I'm honored to have author Ellen Stimson in SunnyRoomStudio this week. And though it may seem early to get into the Christmas spirit, Ellen's latest release is the perfect way to gently bring the season back into focus. She'll tell you more about that, however, and she'll also tell you about turning fifty. Ellen is blessed with a wild pack of children; not-so-wild but completely adorable husband; and a very civilized group of chickens, dogs, and cats. She writes about the whole divine catastrophe from an old farmhouse in Vermont.
Welcome, Ellen!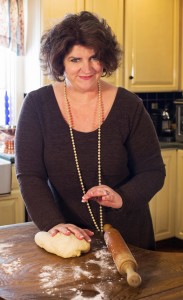 Turning Fifty
by ELLEN STIMSON
(author of the bestselling book, Mud Season)
SO I WAS TURNING FIFTY. This was the first birthday that had really gotten my attention.
Well, okay, there was actually one other. Twenty-seven was a game changer, too. I remember standing in my kitchen talking on the phone to an old high school pal. Her sister had just enrolled in medical school. That would not have been so notable only she'd already graduated from law school, so it seemed like overkill. And there I was listening to her tell the story of the med school applications, On. My. Birthday.
My eyes happened to wander over to my living room coffee table.
Sitting on top of it was a silly vampire novel, called The Vampire Lestat by Anne Rice. Law school, medical school and Anne Rice. I thought, "Ellen, we really could be doing better here". (So twenty-seven … but not since then.) Now came fifty. Fifty really isn't really half of anything. You know as a middle age barometer 37.5 might be closer to the mark, but it just doesn't have the same ring. We look instead to fifty.
As my birthday approached I started doing the math. My mom, who had recently died, had lived to be eighty-four. I had just read an article, in the Atlantic, about women who were born in the decade of the nineteen sixties (like I was) living an average three years longer than their mothers. So that would get me to eighty-seven.
But those last few years of hers had been a hot mess. So maybe eighty. If everything went all right, I decided I could reasonably expect to live pretty well until about eighty. I mean I don't smoke. I don't really drink. Cheese is kind of a hobby of mine but except for that … this gave me thirty years. Then I did some more math. Thirty years equaled fifteen hundred and sixty weeks.
Fifteen hundred sixty.
That surely didn't sound like very much. It felt like, what the hell?
I was practically dead.
I went to bed kind of depressed. But then in the middle of the night the best thing happened. I woke up realizing that I wasn't fifty yet! This was only April, and my birthday wasn't until August. I had a seventeen free weeks, a death row reprieve.
I immediately set about trying to think up something cool to do with all that extra time. I had always wanted to learn the stand up bass, but that could take a lot longer than four months. I wondered how long til' I could play "My Funny Valentine." Plus as a girl who had been drunk on book love all my life, I had always meant to write my own book. That had the added benefit of not needing some expensive piece of equipment to get started.
Luckily I had a great story.
A few years earlier our family had moved across the country for a romantic country life in the mountains of Vermont. We'd fallen in love with the area one glorious October, cashed in our 401Ks and picked a whole new life at the "lifestore."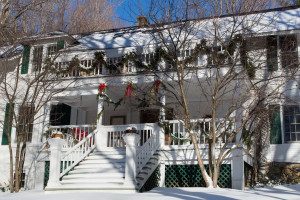 I'd dreamt about raising chickens and drinking my morning coffee by a waterfall. Only it hadn't exactly turned out like the commercials. We did get those sweet chickens, but there were a few little … bumps, along the way.
For just one tiny thing, we still had to make a living. I'd sort of forgotten that part. (This is what it is like to be me.)
So when we got here, I bought what may have been the oldest continuously operating country store in America. It was one of those charming places with old candy counters and gorgeous ancient wooden floors. There was even the perfect old-fashioned bell above the door. It didn't look like the kind of thing that could practically kill you. It had been happily humming along since 1817, and then I managed to run it, BAM! straight into the ground in a little less than three years.
Now that was a story. And I set out to write it. My first memoir was called Mud Season. Published by W.W. Norton in 2013, it set the tone for all that followed. I loved everything about this book project so much that I set out to write the second while I was on tour for the first. A memoirist gets to look at all the big questions through the lens of just a few characters.
Mud Season was all about parenting, living intentionally, business failure and place. The second one, Good Grief!, explored the boundaries of family and grieving. Both often get shelved in the humor sections of the bookstores because humor is one of the lenses I use to tell myself my stories.
In my life there is the wonderful and the hideous, (I have a wide emotional range) and the hideous is mostly just waiting to get turned into a funny story. The birthdays kept coming of course. This year I turned fifty-three and took a few flying lessons to celebrate.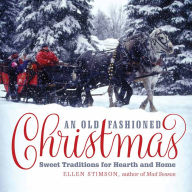 My third book, An Old Fashioned Christmas, was released this week, again from Norton. It is all about tradition, family, and food. The same characters are back, loving and fighting and doing all their regular human stuff. The critters, such a big part of our lives, are all here, too. Naturally I am writing another. Cause, as of this moment, I probably have about fourteen hundred and four weeks to go, and the way I figure it, playing the stand up bass would have been awfully hard on my back. ~
Thanks, Ellen!
You're right … you have a great story.
Enjoy the season.

Find ELLEN on Facebook and Twitter.
Or via her website.
SEE you again on Friday, November 13th, as I continue to focus on memoir — the genre, the path, the point of it all. I will also be keeping you updated on the release of my forthcoming memoir: The Silence of Morning — A Memoir of Time Undone.

Blog by SunnyRoomStudio: all rights reserved.
When we value the journey itself, new realities are revealed amidst the old.  –dh

Always Returning: The Wisdom of Place

is about digging into our surroundings to unearth an organic, timeless wisdom. If you're looking for inspiration or want to lean more about a landscape, a place, that helped me to unearth my spiritual roots, this may be a book you'll enjoy. We are much wiser than we imagine; it's just a matter of tapping into what we already know. ~