Why is "today" so wrong, or "yesterday" … or perhaps, "tomorrow" … ever wondered about this? What happens when you don't constantly spin stories in your mind? They often dissipate. The mind is a relentless story-maker, and some of this is necessary … in terms of giving our lives meaning and a sense of continuity. But this tendency is best balanced with an ability (and a commitment) to peer beyond heavily personalized stories that are a serious impediment to deeper self-awareness and liberation from time.
"The day that you've been waiting for is today; the moment that you've been waiting for is this very moment. You must pierce the veil of time and space in order to come to the here and the now. In the now, you will find what you have been looking for." — Thich Nhat Hanh, "Inside the Now: Meditations on Time" (2015)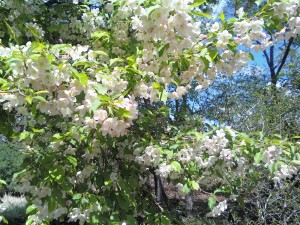 It seems nearly every book written is about this kernel of truth … the journey to see beyond ego and a plethora of self-limiting personal stories. Another common thread in books is the ongoing search for happiness. A search that is often launched from a faulty premise: that "others" can bring me happiness, that "others" are somehow responsible for my suffering, that "others" have failed, yet again, to deliver what I expected and deserved.
What if we released those "others" from our very own well of personal suffering? Released ourselves from make-believe stories of woe, contrived drama, and a curious need to take everything personally? (And I'm referring to smallish situations here, not life events that are more like earthquakes … )
This year we've been exploring how small changes have rich and lasting potential. In my last blog post … I mentioned trying to let go of "time" … its many dictates.
What is the deeper story, after all? Don't you want to know? 
The smallish change I want to suggest today is simple: whenever you find yourself feeling dissatisfied, at odds with people or the planet, release the thought — fully, immediately, without strings. Keep a journal of what happens next. Do you feel more expansive, more peaceful, more joyful? After you've done this for some time … did you notice something deeper edging its way into your awareness?
What was it? Can you describe it? Have you perhaps created space for personal growth, for something new to emerge within — for a stronger connection to all things unseen? Maybe this is how spirituality is discovered in the first place. 
The beauty of this kind of transformation will be apparent. Now you can be more of a "gift" to others instead of just another person filled with negative energy and forever looking for "something" nameless and nonexistent.
I explored this transformation in many ways during the aftermath of my son's death … my memoir (written over seven years) shares the details of this unexpected journey … and eventually, I realized that we all have our moment in the sun … and it IS enough.
This moment of awareness, of complete awakening, may take us by surprise, but when we commit to living from a deeper perspective our efforts won't go unrewarded.
Unfortunately, many seem unwilling to make the commitment or don't even realize how bogged down they are in a narrow, superficial life path. One that makes them miserable, along with those they interact with. Whenever you sense a "complaint" arising from within, just stop, ask yourself if the so-called complaint is about YOU or someone/something else. Face the inner music, in other words. Faulty perceptions easily turn into complaints. We can explore this pattern, or continue to walk a dull, lifeless path  focused on making "others" wrong, deficient, or guilty of "something." The choice is always ours.
Instead of mostly "taking" (or insisting on) what you think will make you "happy" … consider asking yourself how you can bring peace and light, even a deep sense of spiritual maturity, into the lives of others. But, first, you have to be filled with peace and light to make this a genuine offering. It's really up to us. We can be a drain on others, or we can be a meaningful source of inspiration and well-being. We can be filled with understanding (a generous spirit), or brimming over with dissatisfaction, selfish "wants" and "needs." Criticism, demands, and perpetual neediness. Only when we take responsibility for our own inner world can we truly be present to others. And only then … will we "find" what has long seemed out-of-reach.
As spring approaches, I hope these insights are useful: a small gift with the potential to open doors and change lives. ~ dh
See you again in a few weeks (April 1, 1016). Thanks so much for stopping by this sunny space for kindred spirits. ♥
My memoir, THE SILENCE OF MORNING, is now available in paperback and KINDLE formats. This deeply moving story emerges from the ashes of a tragic ending … loss from suicide, profound grief, unresolved spiritual questions, a powerful and revealing appraisal of our addictive culture, and even the greatest life mysteries … a compelling and timeless memoir by an author who cares deeply about humanity, the universal struggle to find peace within chaos and discord.

A poignant, courageous narrative; a book for all seasons that forges lasting bonds of connection and understanding; a determined and inspired spiritual journey.    

" … a new path. Holy and beautiful and heartbreaking." –Susan Hall Pohlman, author of Halfway to Each Other

Blog by SunnyRoomStudio: all rights reserved.