I've just finished reading two intriguing books, both memoir, both rich in personal meaning and nuance. One author writes about her life in New York City–specifically, the streets of the city and how human contact is often her goal; the other author writes about her son's bipolar diagnosis and eventual suicide. At first glance the topics sound dissimilar. Yet, life and death issues, along with passages of noticeable clarity amidst emotional chaos are found in both books.
Style and structure vary tremendously, however, making for striking examples of how memoir can be successfully written from different perspectives. Popularized expectations of memoir are extremely limiting, but from a literary standpoint, memoir can flow from the soul. Coming to life effectively in an abundance of customized, highly creative ways.
Vivian Gornick is actually a bit of an expert when it comes to this genre. I fist discovered her work via her wonderful book The SITUATION and the STORY: The Art of Personal Narrative (2001, Farrar, Straus and Giroux).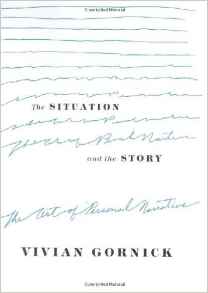 "The question clearly being asked in an exemplary memoir is 'Who am I?' Who exactly is this 'I' upon whom turns the significance of this story-taken-directly-from-life? On that question the writer of memoir must deliver. Not with an answer but with depth of inquiry."
I took her words to heart as I completed my memoir last August, reading her book to determine if I had gotten reasonably close to this lofty goal in The Silence of Morning: A Memoir of Time Undone. I imagine most other serious memoirists have studied Gornick's work, as well. I agreed with her about the need for "depth of inquiry" in any solid memoir. A story is just a story without soul-searching; a situation just a situation without depth and contemplation and vivid questions to guide us.
But the Gornick memoir I'm focusing on here is The Odd Woman and the City: A Memoir (2015, Farrar, Straus and Giroux). I first learned about her new book on author Richard Gilbert's Draft No. 4 Blog — immediately, I was intrigued. Gilbert, the author of SHEPHERD: A Memoir, holds an MFA in creative nonfiction from Goucher College, Baltimore, and teaches writing at Otterbein University in Westerville, Ohio. Gilbert formerly served as marketing manager of Ohio University Press/Swallow Press, where he also helped acquire books.
The second memoir I want to discuss today is Leaving the Hall Light On: A Mother's Memoir of Living with Her Son's Bipolar Disorder and Surviving His Suicide (2011). Author Madeline Sharples is also an advocate for improved mental health services. Her mission since the death of her son is to raise awareness, educate, and erase the stigma of mental illness and suicide in the hope of saving lives. She'll be participating in the American Foundation for Suicide Prevention's Out of the Darkness overnight 16 to 18 mile walk in San Francisco on May 21 for suicide prevention and awareness. Her memoir tells the steps she took in living with the loss of her oldest son–first and foremost that she chose to live and take care of herself as a woman, wife, mother, and writer. She hopes that her story inspires others to find ways to survive their own tragic experiences.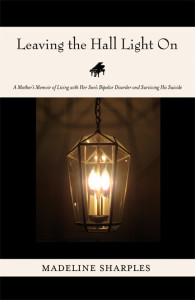 I interviewed Madeline here in SunnyRoomStudio in 2012, in a post called Look Again. While working on my memoir, I noticed she had written about her son's suicide, and this encouraged me to keep working on my book. Both of our sons died at 27 years. Paul and Matt both struggled with serious issues for several years before succumbing to what many might consider inevitable. Clearly, life is a challenging endeavor for everyone, but for our sons, it was a toxic battle with life and death issues. So when it came time to decide on a cover quote for my memoir, I knew exactly who to ask. Though our path into grief and beyond tragedy was necessarily different, there are unavoidable similarities. Shock, despair, self-doubt, a purposeful search for truth, plus the inevitable discoveries and insights that arrived like gifts from another world.
In returning to my look at Gornick and Sharples in the context
of their respective memoirs, several things come to mind.
Gornick (author of 12+ books) writes in brief passages without a single chapter break in her latest memoir. When I first began reading The Odd Woman and the City: A Memoir … I wondered where she was going with the narrative, if anywhere at all. Drama and tension were understated (which I liked), but I also felt like I may have dipped into her private journal by accident. Scenes are lightly fleshed out, if at all. And dialogue was scattered to nonexistent. A certain chronology was there, as if lightly sprinkled atop subtle story layers. I liked that, as well.
When I wrote my memoir, I wanted to avoid mainstream genre guidelines. I didn't want a book about my son's life journey to read like some kind of thriller. I wanted to respect his journey, and mine. And I was seeking the substance of the story, the universal, core message–the deeper story of loss, struggle, and hardship–that would resonate far beyond a single brief lifetime.
From GORNICK: "New York friendships are an education in the struggle between devotion to the melancholy and attraction to the expressive. The pavements are filled with those longing to escape the prison sentence of the one into the promise of the other. There are times when the city seems to reel beneath its impact."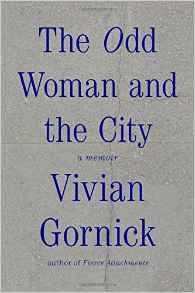 Book notes on Amazon …
A memoir of self-discovery and the dilemma of connection in our time …
A contentious, deeply moving ode to friendship, love, and urban life in the spirit of Fierce Attachments: A Memoir (Gornick, 1987) …

Written as a narrative collage that includes meditative pieces on the making of a modern feminist …
Gornick was born in the Bronx in 1935. This memoir was released when she was 80. She clearly has mastered the art of brevity. Odd Woman is 175 pages. Yet, there is obvious substance, as well. And there is clarity, along with an ability to notice the undercurrent of life. Consider her observations:
"Release from the wounds of childhood is a task never completed, not even on the point of death."
"My mother had heart surgery. She emerged from the operation in a state of calm I'd never known her to possess. Criticism and complaint disappeared from her voice, grievance from her face. Everything was a matter of interest to her … ."
Madeline, in contrast, lives in California. But New York was part of her son's story, a place where his ability as a jazz musician began to solidify. Yet, Paul also seemed somewhat adrift in New York because of an emerging bipolar disorder, indirectly reminding me of Gornick and her story of the streets, the people, the place, and how these influences shaped her as a woman, a person, an author. The role of "place" is an interesting theme in many memoirs. Madeline's son makes several cross-country trips trying to outwit his mental health and nurture his considerable ability and musical ambition at the same time. And then there was his love life.
Gornick walks the streets of New York City to find herself, her friends, and to encounter humanity in its many guises. Missions of personal exploration are everywhere in memoir. Most authors … urgently wishing to explore life meaning and purpose.
From SHARPLES: "I think the reason I felt so little grief about Mom's death was because I compared it to Paul's. She lived a long life, and she made her own decisions about wasting it the way she did. I felt no remorse in that. It was all her choice. The only bad part was all the people she affected along the way with her miserable attitude and sharp tongue."
Gornick also writes about her mother — their ongoing relationship and snippets of their unique history.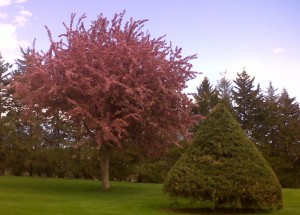 I took this picture when walking through the cemetery where my grandmother is buried. Living nearly 99 years, Anna was a beacon of light in my life. I wrote about her in both of my books, because her memory looms large and bright. Still.
What memoirists choose to write about varies tremendously. The way our stories come together also varies. In the end, though, we are all writing about the mysteries of human existence. And that is why memoir is such an extremely important genre. What could be more important after all than the relationship between the deepest life mysteries and the delicate unraveling of human lives?
On the back cover of my memoir, I posed key questions that felt extremely important …
How do we better understand the human condition, the quest for inner peace?
How do we tap into the deeper mysteries, embracing challenge and loss as we go?
How do we distance ourselves from a malcontent culture focused on excitement, escape and excess?
And despite it all, how do we deepen our perspective … commit to sustained personal growth?
When I can pick up a memoir that touches any of these subjects, I'm pleased. These are things I want to know. These are subjects I find compelling and hopeful. On page 279, I wrote: "As my awareness expands, I peer ever more intently through the veil of time, daring to inch my way beyond a murky trail of human suffering. In moments of deep silence–vast, comforting–I also sense I am intrinsic to a captivating fantasy, a sacred play of infinite energy. Aren't we all just riding some incredible wave?"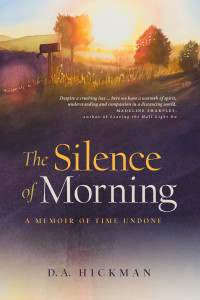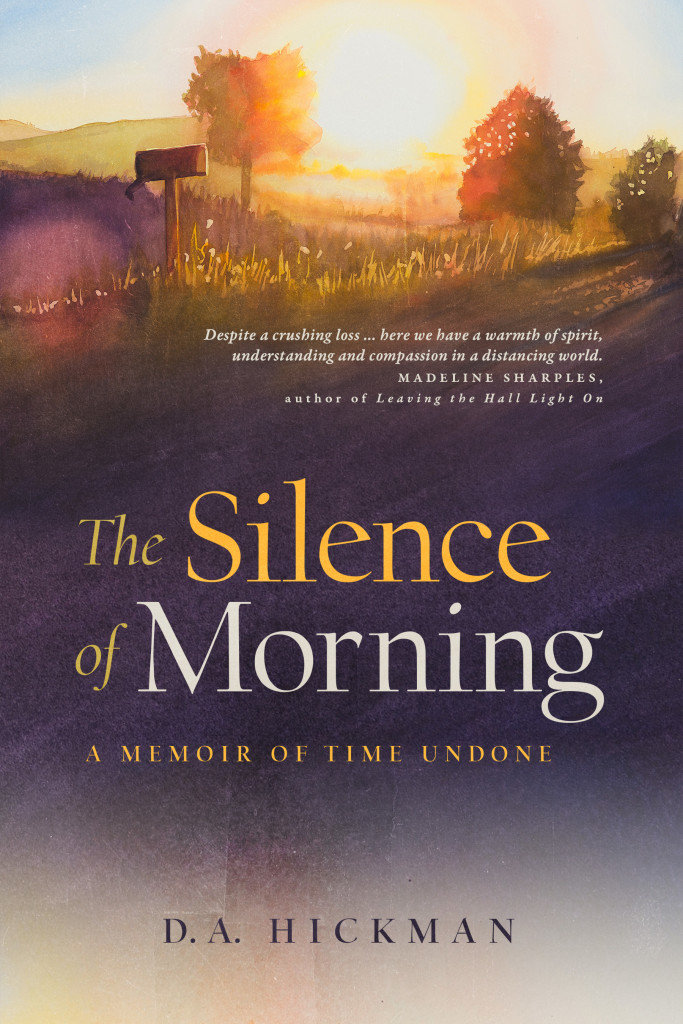 I'll leave you with that question — that sense of infinite possibility. And since we're also talking about the power of small changes this year, why not consider picking up a book that has been on your "to be read" list for way too long. I always feel a noticeable sense of gladness when I finally get to a book I've been wanting and waiting to read … ♥

Until my next blog post on Friday, April 22, I hope you are reading at least one memoir … if not several. When it comes to literature and the hubris of a superficial celebrity culture, a strong memoir, in welcome contrast, artfully reminds us of the true nature of the human condition in insightful, memorable ways. A world born of connection, yes, but we are also a world sustained by understanding, compassion, peace. IF we are to be sustained at all.
By the way, I'm reading another memoir, and will bring back a few remarks to SunnyRoomStudio. Patti Smith writes in her 2015 memoir, M Train, "How is it that we never completely comprehend our love for someone until they're gone?" If you've already read this book, or any of the books covered in this blog post, please share a comment about one of them. Readers are always looking for their "next book" …
The failures of other genres to provide an emotional connection with
some of their characters and narratives gives memoir a toehold.
Thanks so much for stopping by this sunny space for kindred spirits.


I will always be a student of society looking for the deeper story and the universal message




to derive a better understanding of the human condition.
— D.
A. Hickman

Blog by SunnyRoomStudio: all rights reserved.