When I launched SunnyRoomStudio one thing was clear.  I wanted to share the voices of kindred spirits in this sunny creative space.  Getting to know people who share a passion for creativity is so rewarding, for one thing.  But, on another level, I have the opportunity to bring a diverse collection of voices to this creative space — to celebrate the ideas that resonate with me.  To highlight the work and thoughts of men and women who have something special to offer.
Holly Weiss is one of those voices.  She has endured the ups and downs of life, like most of us, with a desire to uplift others through her work.
So it's my pleasure to introduce author and retired professional singer, Holly Weiss.  Her first novel, Crestmont, was published in 2010.  If you're looking for summer reading, this book just might be the ticket.
Enjoy a glimpse into the lives and loves of the Crestmont Inn's staff during the 1920s in Eagles Mere, Pennsylvania.
But what I most want to mention is Holly's life story, which is tucked within her guest post.  A first novel (historical fiction) is one thing, but transitioning to writing because of polio complications that forced her to end a 30 year singing career is impressive … to say the least.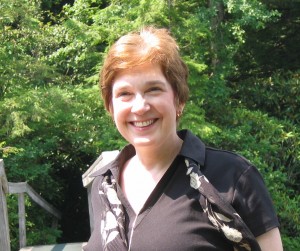 You'll glean many interesting things from her guest post, but primarily, you'll see how Holly turned a major setback into something beautiful.  And rewarding.
I'm reminded of a lovely quote from Walt Whitman, in fact.
Every moment of light and dark is a miracle.
So thank you, Holly, for sharing your light in this sunny space that
celebrates the spark of creativity in all its many forms and versions.
I know everyone will value this chance to get to know you!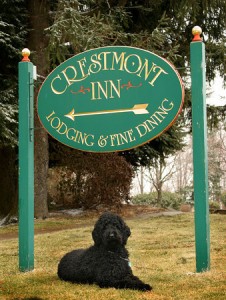 And for those of you who love dogs like I do, you'll be happy to know that Annie is the official greeter at the Crestmont Inn these days.
But let's find out what else goes on at the enchanting Crestmont Inn!
One Voice Led to Another – A Singer's Transition to Writing
By Holly Weiss, author of Crestmont
Perhaps you have heard the saying, "Barn burned down, now I can see the moon."  I hated it when I first read it because I was immersed in a barn burning in my own life. Post-polio syndrome, a condition that effects people infected with polio virus as children, often returns when polio survivors reach the age of fifty. The polio virus infected me in 1952. Well-meaning doctors encouraged polio survivors to push past the muscle weakness and paralysis. I became an expert "overcomer." I received degrees from college and graduate school and went on to a successful three-decade singing career. When unrelenting back pain presented itself after every concert five years ago, I had to retire. In addition, to conserve what little energy the post-polio syndrome left me with, I was forced to cut in half other activities in my life.
I grieved for years because my voice, my primary means of creative expression, had been silenced.
Then, bing! On a lark, my husband and I stayed overnight at The Crestmont Inn in the Pennsylvania Allegheny mountains. Our room was a luxury suite converted from a staff dormitory built in 1926. I envisioned what life must have been like for young people working a summer job at a bustling inn. I recalled this quote:
"Another opportunity is given you as a favor—and as a burden.
The question is not:
Why did it happen this way? or
Where is it going to lead you? or
What is the price you will have to pay?
It is simply:
How are you going to make use of it?"
…Dag Hammarskjöld.
We can be so entrenched in our idea of we want for our journey that we ignore God's guidance in the turning of corners. He had to hit me over the head with a two-by-four to show me to leave my singing behind, write a book about The Crestmont Inn, and make use of what life handed me. One voice led to another.
Although I had never written a book before, a wonderful experience opened before me.
I set the novel in 1920s Eagles Mere, Pennsylvania. Researching the history of the real Crestmont Inn, built in 1899, enriched me. My music inspired me to imbue Crestmont's main character, Gracie with the desire to sing. A Native American legend says that the Great Spirit flooded Eagles Mere Lake out of anger. I gave that a different twist, wanting to set the tone of grace around which Crestmont is built. In my novel, he cried tears of forgiveness. The eagles joined their tears with his, both mingling together to gently fill the lake called Eagles Tears or Eagles Mere.
Because grace had moved me past a sad impasse in my life, I wanted to emphasize that concept in the novel.   Crestmont main character, Gracie (purposefully named) is a courageous young woman who knows she needs to leave home to find herself. She's not sure how she will work it all out. Allowing herself the opportunity to fulfill her desire to sing is uppermost in her mind. She says, "A dream, after all, needn't be fueled by particulars, only desire." Did Gracie become a famous cabaret singer? You'll have to read Crestmont to find out. One thing I can promise you is that she found a spirit of acceptance and grace at The Crestmont Inn.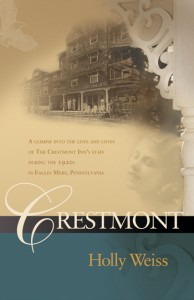 Here is the book's plot summary:
Determined to take control of her life, sheltered Gracie Antes leaves her unhappy home in 1925 to pursue her dream of a singing career. On her way to the big city, she accepts a job as a housemaid at the bustling Crestmont Inn. Once there, Gracie finds a life-changing encounter with opera singer Rosa Ponselle, family she never imagined could be hers, and a man with a mysterious past. Relive the 1920s with a colorful cast of characters. Discover with Gracie that sometimes we must trade loss for happiness.
Set in Eagles Mere, Pennsylvania, the story is interwoven with details about the town, the rich history of The Crestmont Inn, and the family who passed ownership from one generation to the next. Many attempts have been made to explain how the mountaintop lake nestled in this tiny town came to be. Crestmont gives a new twist to an old Native American legend, setting the tone of grace around which the story is built.
I hope the Roaring Twenties will spark your interest with its unique social mores, fashion, jazz, and a little bootlegging thrown in for pizzazz.
Writing was a natural progression from singing for me. Every song requires a different persona—a unique character the singer develops to make the song real. Inventing characters for Crestmont was an adventure I was well-prepared for after 30 years of creating them in song. Violinist Itzhak Perlman said "Sometimes it is the artist's task to find out how much music you can still make with what you have left."
Personally, I have never had difficulty with creative expression. My challenges lie in finding an outlet for that expression amidst my physical limitations. Where do I go from here? I hope to write another book, perhaps retelling the story of "One Voice Led to Another." In the meantime, I am on a mission to help other writers. The whirlwind of marketing a book is daunting. I am currently reviewing newly-released books because I love it. Assisting other writers facilitate their book's entry into the public eye is an added bonus.
We are all together in this journey. One voice leads to another.
Our real blessings often come to us in the form of loss, pain and disappointments. With time, we see the benefits of those losses. I am blessed with a loving, supportive husband, family and friends and am grateful for the years of ministry through song. My life, although filled with physical challenges, has become a re-composition full of unique harmony. God faithfully and creatively led me from the voice of a singer to that of an author.
Several years ago my barn burned down, but now, I can see the moon.
Holly Weiss is the author of Crestmont, a historical fiction novel set in the 1920s. She is an advocate for the Global Polio Eradication Initiative and Compassion International. She is also a member of the National Association of Teachers of Singing.  A polio survivor, she lives in upstate New York with her husband.
Blog by SunnyRoomStudio: all rights reserved.