It's my pleasure to introduce my 17th Studio Guest, Laura Harrington.  In her own words (from her website):
In college I was an English major, but minored in art history and studied singing seriously, knowing that the rest of life might not give me time to spend an hour a day in practice rooms making music.
For the next twenty-five years I wrote for the theatre: plays, operas, musicals, radio plays, screenplays and teleplays, librettos and lyrics. I was in love with theatre; the never-ending challenges were intoxicating. I was blessed with opportunities, with wonderful collaborators: composers, directors, designers, performers. My work was performed across the US, and in Canada and Europe.
And then in 2008 I was given this incredible award that changed my life again. The Kleban Award is given each year to "the most promising librettist in American Musical Theatre." This was both a wonderful affirmation of my theatre career and a cash award that gave me two years of writing time. But when they gave me the award I didn't think, "Oh boy, I can't wait to write my next musical." Instead I thought: I want to do something I've never done before. I want to re-connect to the creative process. I want to be a beginner again.
I decided I wanted to try to write a novel. Bringing me full circle to my first weeks of grad school when I dropped fiction for theatre. And then the book itself brought me full circle to the house and garden and community I'd left at seventeen.
The world of my childhood is feeding my work in ways I could never have imagined. When I began work on Alice Bliss, I heard a voice inside me saying, bring it in close; bring it in really close. My father's garden, my father's and my brother's service in WW II and Viet Nam, the streets of my hometown, the landscape of my childhood and my imagination are all part of Alice Bliss.
◊◊◊◊◊
Alice Bliss is Laura's new novel (Pamela Dorman Books, Penguin/ Viking, 2011).  And love, coming-of-age, small town realities, family relationships are all in focus.
So for her guest post here in SunnyRoomStudio, Laura decided to write about mothers and daughters.
I hope you enjoy this creative look at family voices — how they are forever intertwined in our lives, coming to life when least expected.
Mothers and Daughters: Life Lessons
by Laura Harrington
I wrote to my daughter recently to say that I'd like to do a joint blog post with her to celebrate my mother's birthday.  I've been thinking a lot lately about what Alice learns from both her father and her mother in my novel, ALICE BLISS, and how a parent never knows what is going to have the most impact on a child: the things you say, the things you do, the values you live by.
Inspired by a list that Matt, Alice's dad, leaves behind for her in a box of letters – "Dad's words to live by" — I decided that I wanted to write about what I'd learned from my mother and learn about what my daughter had learned from me.
I thought a list would be a good idea as lists are so non-threatening. I figured her list would be quirky and fun while mine would be earnest and boring, thus illustrating the difference between the generations, or at least some of the differences between the two of us.
Much to my surprise she was delighted with the idea and sent me her list immediately.  Yes, it is more fun than mine, but then again, I didn't grow up in the Depression like my mother did.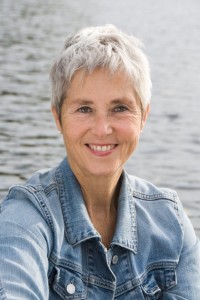 My list: What I Learned from My Mother
Love Christmas like a kid no matter how old you are.
Candles make everything – and everyone – look better.
Stay curious and keep learning new things all your life.
Libraries are treasure houses.
If you learn about architecture you can "read" the story of a town or a city in its buildings.
Act like you're somebody.
People who talk all the time have nothing to say.
Wear bright colors when you're blue.
It's the little things that count.
Confidence and a smile are more beautiful than all the makeup in the world.
My daughter's list: What I Learned From My Mother
Respect other peoples' goals.
Short hair is sexy on girls.
Grey hair is sexy on girls.
Sometimes it's okay to leave at intermission.
High-waisted pants are usually more flattering.
Not to stop being thankful for the ocean, even when you see it everyday.
Reading makes you a more interesting person.
You can never read too much.
 My mother has been gone for almost 20 years, and she was lost to me for almost a decade more during her decline into dementia. But I still occasionally hear her voice.  And her words – many of them so simple – have become ever more important as time passes.
Thanks, Laura, for sharing your insights on family voices.
They often resonate with deep meaning, coming
to us when least expected.
For those of you who are interested in reading Laura's novel, Alice Bliss, here is a review you might enjoy.  You can also find Laura on Facebook or Twitter.  And feel free to leave her a comment below.  I'm sure she'll be happy to get back to you!
Rather than a synopsis of ALICE BLISS, I thought I would share this smart, short review from the brilliant writer Charlotte Gordon (THE WOMAN WHO NAMED GOD, MISTRESS BRADSTREET).   I love reading Charlotte's work for the confidence of her voice,  her sense of humor, and because she expresses so much about a writer's perspective on reading.
↔ 
"Move over, Scout. Meet smart, plucky, funny Alice Bliss. Her dad has gone to Iraq and she is left home with her mom and little sister and somehow has to go on living. She has her first kiss, learns to drive, goes to dances, plants a vegetable garden — all while her dad is fighting in the war. She is also the title character in Laura Harrington's new novel, Alice Bliss, a book I read cover to cover (really) snuffling and laughing and itching for everyone I know to read it so we can talk about it. I loved this book the way I loved To Kill A Mockingbird, which is one of the first books I remember agreeing with a teacher about. We both liked it– every word of it — a miracle, since usually, the books we were assigned in school were books I could not finish, or which bored me, or which depressed me. You know the ones: A Separate Peace, Animal Farm, Lord of the Flies, Lord Jim, Huck Finn (yes, I admit it — I did not like it), things by Ray Bradbury and Kurt Vonnegut. The only excuse I have is that not one of these very fine books had much to do with being a 13/14/ or 15 year old girl and I did not have enough imagination,or, more accurately, I had not yet cultivated and strengthened my imagination enough to make the jump into being Huck or a boarding school boy. I did sort of like Lord of the Flies, if one can like Lord of the Flies, but only because it reminded me of my school — the hatred and cruelty that ruled the hallways. And I, of course, was Piggy. Looking back, I don't think it is a coincidence that all of these books were written by men about boys. What I wish is that Alice Bliss was around then. This is the sort of book that would have helped me understand myself more and understand my world more fully, just as it did when I read it last month. I think this is because the author lets us inside the heads of the characters, no matter how old they are, or what sex they are. This means the 48 year old reader is reminded of being 14 and the 14 year old reader is allowed a glimpse into the lives of the middle aged and elderly. And this is why I think this book is going to be a classic, assigned in schools, read in book clubs and colleges and devoured by middle aged men, women, girls, boys — in the same way that To Kill A Mockingbird appeals to all ages, all sexes. I urge all of you to read this book, give it to your friends. Buy it for Father's Day. Because, although the title character is a girl, struggling to come of age, the novel is also about motherhood, fatherhood, being a friend, being a grandmother, an uncle — the list could go on and on. I guess the book is about all of these things, not to mention the tragedy of war."
↔
Laura Harrington is currently writing a new novel, "A Catalogue of Birds,"as well as a song cycle with composer Elena Ruehr, and a series of choral works with composer Roger Ames. Ms. Harrington teaches playwriting at M.I.T and is a frequent guest artist at Tufts, Harvard (where she was a visiting Briggs Copeland Lecturer), Wellesley, University of Iowa, and other campuses.
Blog by SunnyRoomStudio: all rights reserved.