Have art and creativity helped to empower you?
Have you sought answers to difficult situations by looking within?
Do you want to go "beyond" a conventional story line?
My lovely guest, Jennifer Paros, is a writer and an artist from Seattle, Washington.  She wrote an early chapter book for children called Violet Bing and the Grand House.
"Violet Bing and the Grand House was featured on the cover of The Bulletin of the Center for Children's Books and has been included on the New York Public Library Committee's 100 Books for Reading and Sharing list.  Violet  was also a featured recommendation on THE TODAY SHOW." — Jennifer Paros website, Words & Pictures
If you want to find her on Twitter or Facebook … look for Jennifer's artwork,
this wonderful yellow umbrella.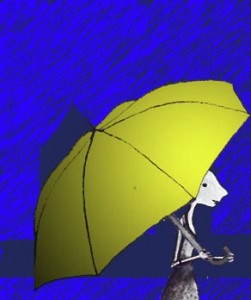 And Jen's blog is called Out From Under — from her September 13th post,
This Is Not a Test:
"When I was starting to take art lessons in college, I was intensely frightened.  I saw the blank paper as a test I was bound to fail.  The test involved me having to look at something outside of me and then make my paper look like that thing – and I believed I could not do this."
 Clearly, Jennifer Paros has overcome her fears.  And it's my pleasure to have her voice here in SunnyRoomStudio — a creative sunny space for kindred spirits.  Jen's guest post is filled with warmth and insight.  It's about finding answers in life, something we all must do time and time again.  Welcome, Jennifer!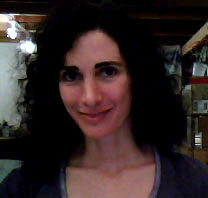 NO SMALL THING
by Jennifer Paros
Years ago, when my first son was closing in on two years old, my husband and I wanted to have another child and one day decided to start "trying" sooner than we'd originally planned.  Trying was almost immediately over, however, as I found myself pregnant after the first go.  But the pregnancy never felt right and by the end of my first trimester, there were signs things were amiss.
My intuition was telling me it wasn't to be; my intellect felt compelled to hold on. 
I was scheduled for an ultra sound and found myself drifting to sorrow.  To take a break from the mental stories I was running and the building sense of distress, I decided to paint – something I hadn't done for a while.  Though I'd been teaching private lessons, I had gotten away from making art myself.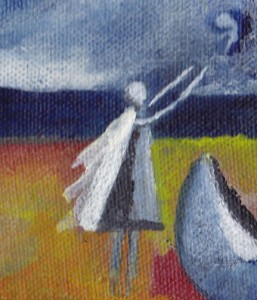 The canvas was only about 6"x 7".  I had no plan, no vision for what I wanted to create – just the desire to express something that might comfort and calm me at that time.
Over a day or two, I painted a picture of a landscape with buildings piled high, a body of water, and a boat that had fallen over and broken.  The last thing I found myself working on was a dark, jagged eye-shaped area, recessed in the land.  I took great care – going over and over this space, though I didn't know why or what it was supposed to be.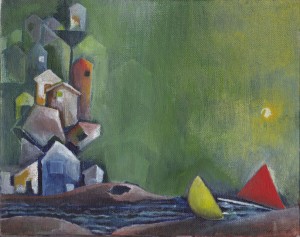 When I went for my ultra sound, the technician revealed the image of my womb where once a baby had begun, but now was empty.  She called it a blighted ovum, which means the seed had implanted, started to grow but stopped and had been reabsorbed by the body leaving only the empty sac.  When I saw the black space where the baby should have been, I immediately recognized it as the one I had taken so much care to paint in my picture.
We are communicating with ourselves all the time.
There is a line, a thread, a movement of understanding pumping through us all the time. My mind was beating out question after question, panicking, dramatizing, in the midst of me actually knowing the answer clearly – as clearly as I painted it.
We have within us the answer to all of our own questions and the compassion and love needed for perspective and healing.
There was guidance that could not only clarify my current situation but most importantly remind me there was more to me than I was acknowledging.  Although identified with one who was in great fear of losing what she wanted, terrorizing herself with thoughts she'd never have it, there was another me who could see more and was not in fear.   And that energy of self only wanted to be summoned and born into the moment – any moment, whether it was the moment of a baby or an empty space.  It did not matter.
Fear and distress come from seeing ourselves as small and powerless. 
When we listen, we start to remember the bigness, depth, and knowing of what is informing us. Accidents happen.  Boats capsize, seeds fail to grow, we get entangled with fear, but life is not the sum of its expressions. Life does not break, nor fall, nor fail.  That which makes our hearts beat, enables us to see, to touch, to think, to love – that's no small, fleeting thing.  And neither are we.
The power is in you. The answer is in you.
And you are the answer to all your searches: you are the goal.
You are the answer. It's never outside.
–Eckhart Tolle
Thank you so much, Jen, for sharing this story of personal awareness and discovery.  Your keen insights will be helpful to others who are struggling with profound questions or looking for the deeper meaning in life events.  Wonderful to have you here.
I encourage everyone to connect with Jennifer Paros here or via Twitter & Facebook.  I have a couple of questions for you, Jennifer …
Is your artwork available for purchase and how did you come up with the wonderful name, Violet Bing?
Blog by SunnyRoomStudio: all rights reserved.