If you've ever written anything–even a letter to an old friend–you'll know what my 21st Studio Guest, Melissa Crytzer Fry, is exploring in her guest post.  You've sealed the envelope, you've completed your book proposal, you've written the final chapter in a new novel — yet, the voice of doubt chimes in almost immediately.
Was it good enough?  Did it communicate your sentiments precisely?  Could it have been stronger in organization?
But sometimes writers go to the other extreme, thinking their work, even a first draft, is unique and wonderful and complete — their subjective impressions still in control.
Incorporating her stunning photography, Melissa guides you through the maze of self-evaluation.
Melissa, a Northwestern PA transplant, is living out her writing dream on a ranch with her husband in southern Arizona, among wildlife ranging from javelina, bobcats and quail to mountain lions, coyotes and Gila Monsters. Besides being the author of the What I Saw nature/writing/creativity blog, Melissa is also the owner of AZCommPro Communications, her freelance writing business, and a writer/enthusiast of literary women's fiction. Her novel, Bedside, was named a semi-finalist in the 2011 William Faulkner William Wisdom Writing Competition for a novel in progress.
And this, our life, exempt from public haunt,
finds tongues in trees, books in the running brooks,
sermons in stones, and good in everything. ~William Shakespeare
Welcome to SunnyRoomStudio, Melissa — it's my pleasure to share your creative ideas here in this sunny space for kindred spirits.
As writers we all must find balance as we consider our work — its strengths and weaknesses, its merits and shortcomings.  Thank you for providing inspiration for others via the powerful landscape that compels you to create each day.  Nature is the greatest gift!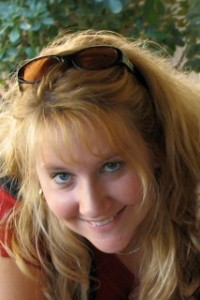 Soft Brushstrokes of the Sun
by Melissa Crytzer Fry

The southwest's beauty is perhaps at no time more spectacular than the winter months, when improved air circulation results in pastel hues stretched across expansive sky, the product of the sun's soft brushstrokes against clouds.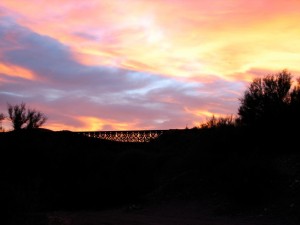 Pinks, roses, even scarlet reds … these vibrant colors fill the space between earth and atmosphere at both dusk and dawn. They influence everything around them, transforming dull brown cliff faces to Sedona-red splendor. But what does any of it have to do with writing?
Everything, really. Like many writers, I draw inspiration from my natural surroundings. Orb weaver spiders have taught me about the critical observation skills needed of novelists; local Native American Indian petroglyphs and pictographs have revealed the importance of magic in storytelling; desert cloud formations have reminded me of the importance of evoking mood in fiction.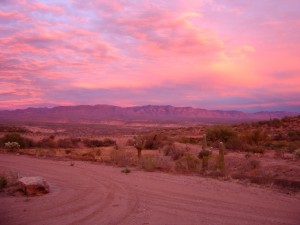 And those rose-hued skies, the pink blankets of color draped along hillsides and mountains? They bring to mind yet another question of writing and craft: What happens when a writer sees the world, her work, through that pink haze – through rose-colored glasses?
Many writers are guilty of falling head-over-heels with their work, rejecting constructive criticism. Those rose-colored glasses get in the way of objectivity, in the way of forward progress, in the way of improvement and personal growth.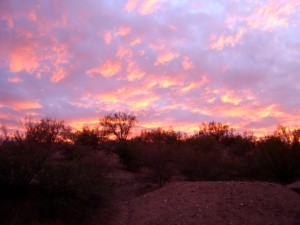 But what if the tinted glasses served a functional purpose in the writer's life? What if they were a tool that propelled the writer forward, helping her gain momentum along the difficult road to publication?
We've all looked through those glasses, haven't we?
We've knocked out a chapter, convinced that "writing this good" will indeed net us the agent of our dreams, a contract rivaled by few others, a movie deal, the works. Some of us believe it until the bitter end, digging in our heels and rejecting the constructive criticism of critique partners, agents, and even editors.
But, for others, we read those same "brilliant" words the next day only to find they have lost their radiant color. So we get back at it, self-editing, writing new chapters, feeling the beauty of our words again, finding their faults all over.
We repeat the cycle.
The overly self-critical writer does something entirely different. He gives up because he's failed to even try on those rose-tinted glasses, refusing to experience the optimism reflected in their lenses. He is so sure that he doesn't have the talent to continue, so sure that even editing can't 'fix' his work that he misses the possibility of forward momentum.
So, in the end, maybe the artist's tinted glasses, just like the salmon and coral skies that cast new light into the desert, add excitement and momentum, add a bit of beauty in the moment … even if, the next day, the colors aren't so bright.
Perhaps the mountains have returned to their dull earth tones the next day, but they're different somehow … different with the promise of another colorful sunrise or sunset. Different enough for the writer to keep moving forward.
Thanks so much, Melissa, for capturing the sun of inspiration.
You can follow Melissa on Twitter @CrytzerFry and I encourage you to visit her blog: What I Saw — a springboard for creativity and awareness.  And, as always, thanks so much for visiting SunnyRoomStudio — your comments inspire others more than you know.   See you again next Friday morning!
 Blog by DazyDayWriter @ work in SunnyRoomStudio: all rights reserved.