Welcome back to SunnyRoomStudio: a creative, sunny space for kindred spirits.
A sunny room is not about always feeling upbeat or energized or falsely positive … it's about going beyond a culture, a society, that is somewhat "hooked" on negativity and drama and controversy.  So this is a place to look at life from a more creative and expansive perspective.  A place to move beyond reactivity, considering the inspirational, spiritual side of things.
Observe the wonders as they occur around you. Don't claim them.
Feel the artistry moving through and be silent. ~ Rumi
Thanks for being here — to read, to reflect, to share ideas.
My blog began February of 2010, and following a winter break, will resume February 1, 2013.  This year I will be sharing a new blog post every other week, always on Friday morning.
Details in a few days; see you soon!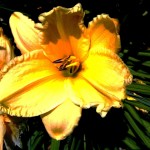 Blog by Daisy Hickman: all rights reserved.