It is my pleasure to introduce author and friend, Shirley Showalter, as my as my 35th Studio Guest.
Shirley recently published her memoir: Blush — A Mennonite Girl Meets a Glittering World.

And she was also my guest last year.  I interviewed Shirley about her work-in-progress, and now you can read more about her book and how it inspired her to study her childhood with fresh eyes.
"Most of us lead far more meaningful lives than we know. Often, finding meaning is not about doing things differently; it is about seeing familiar things in new ways." — Rachel Naomi Remen
Welcome back, Shirley, to SunnyRoomStudio: a creative sunny space for kindred spirits.  It's a pleasure having you here this week.  I admire your journey and your spirit.  In many ways we all grow up in personal worlds that seem distant and disconnected from the world-at-large, but clearly, you found the bridge between them.
How I Found the Signature Story in My Memoir Blush
By Shirley Hershey Showalter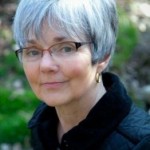 Writing a memoir requires willingness to undertake a spiritual journey. In my case it took me back to the farm of my childhood.
First, one seeks to remember the times one was most alive and most conscious. Virginia Woolf calls these fragments "moments of being." A childhood spent splashing in creeks and playing in meadows brings many such moments.
Next, one seeks to see the invisible pattern behind all the remembered moments. This task is harder than the first.
When working with the invisible in our lives, we have to get quiet enough to listen. I spent a lot of time in a red leather chair with a journal on my lap, trying to hear the patterns under my own breathing. Listening for the conflicts and for the resolutions.
When I came upon these words, I felt a shiver of recognition.
◊
Introduction
Everyone that is proud in heart is an abomination to the LORD.  ~Proverbs 16:5
            Ever since I was little, I wanted to be big. Not just big as in tall, but big as in important, successful, influential. I wanted to be seen and listened to. I wanted to make a splash in the world.
            Admitting this desire still feels like a big risk. It contradicts much of what I was taught about the importance of humility. I've wrestled with the desire for greatness all my life, unable to give it up and yet unable to proclaim it boldly, afraid that I might be committing the worst sin of all – the sin of pride.
◊
After writing that introduction, I had the thread I could use to tie the title Blush: A Mennonite Girl Meets a Glittering World to all the other stories in the book.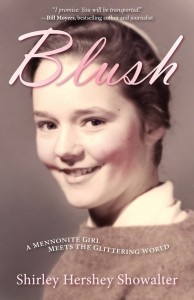 I recognized that I was attracted to the glittering world outside my Mennonite community because I thought it was bigger. I felt uncomfortable located between the church and the world – a place of paradox.
I became a "plain" Mennonite girl, wearing a prayer covering while driving a convertible. I jumped into Bible quizzing and then used my understanding of the book of John to stand up to the bishop. Gradually, I began to see that paradox can hold me. I don't have to choose one or the other. I could be in the world and not of it.
Only when I wasn't thinking about myself was I able to be myself. That meant learning spiritual lessons of nonresistance. When I tried to be sophisticated, I blushed. I wasn't me. When I tried to achieve perfection in academics or in church, I failed. But when I accepted my weakness and asked for help, I grew tall and strong. I got bigger.
Inside the pages of my book is a little girl who dreamed big and eventually learns there is no such thing as a small life. I hope you will forgive her as she stumbles from one adventure into another.
The message I've left under the words for the reader amounts to this blessing: embrace your blush, don't fight it. Being vulnerable and naïve leads to growth.
The wisdom is ancient.
And the place where it leads us is home.  ~
Above all, grade school was a stimulus to creativity.  The most important lessons I took away were probably not in the teacher's lesson plan book.  I learned to listen to my own feelings, search the environment for opportunities, and go out to meet them.  This pattern took hold one day as second grade was just getting started. ~ Shirley Hershey Showalter
Read more about Shirley and her memoir on her website, or leave a comment here.  There is also a wonderful book trailer on her website.  Connect with Shirley on Twitter and Facebook.
Next Friday, October 11th, I will launch a 3-month series focused on several authors and poets I've come to admire over the years.  I think you'll enjoy this!  And in early 2014, a new spiritual journey will begin: journal theme forthcoming.
Also, if you would like to revisit the 17 journal entries that comprised Seeing It Otherwise, just browse Studio Topics (see sidebar) and click on Journal 2013.        

Thanks again for stopping by to meet Shirley.  I have such wonderful Studio Guests … inspiring, creative, and certainly, kindred spirits.   

Blog by SunnyRoomStudio: all rights reserved.