Welcome back to SunnyRoomStudio as we launch a new 7-month spiritual journal called Turning Within.  Like the online journal from 2013, I will post every other Friday morning.  You can look forward to guest posts sprinkled between regular journal entries.
For instance, next Friday, February 14th, my very first Studio Guest (from 2010), author Mary Tabor, will be with us again.  It's the perfect time to have Mary here, as this month marks the 4th anniversary of this sunny room for kindred spirits.  At the close of my first journal entry, I'll offer a brief meditation for Year Five.
A huge thank you to all of you who have been part of this space in one way or anther since February 2010.  It has been a real pleasure to feature the voices of 37 Studio Guests (authors, artists, creative spirits); to focus, at length, on topics that crave in-depth exploration; and to get to know readers who share similar interests.  If you've never visited the Welcome page or the Blog Purpose page (or all of the other pages here in SunnyRoomStudio), I invite you to do so!
I also encourage you to keep your own journal as we go.
Digging within.
Exploring…stretching…allowing for spiritual growth along the way.
Comments will only be open now and then to encourage more internal dialogue. And to give all of us the space to continue to discover the true depth of our internal worlds.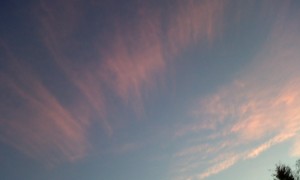 This sunny space was a godsend. It was the first thing I wanted to do after losing my son, Matthew — the only thing, actually. I hope it has given back to others a fraction of what it has given me.
In the wake of grief, I had to create "sun" where none could be found. I had to keep going.
As some of you know, I've been working on a book about this experience. I get a few steps closer each day. And soon hope to feel like it is truly "finished" (as finished as any book ever is). I will keep all of you posted. If my work can help anyone else navigate the difficult terrain of loss, it will all have been worth it.  The creative process isn't always predictable, but maybe  this year, you'll be able to see something in print.  Or maybe next year …
I heard a noted spiritual leader say recently: You can be addicted to turmoil.  Yes, I thought, she is right about that.  So many aspects of contemporary life fuel this "need for turmoil" … this need for excitement and continual mental stimulation. 
But that can't be our purpose on this beautiful planet, can it?
When we really look within, go beyond the habitual craving to always know what is going on in the world that is exciting or conflict-based or sensationalized, what is there? 
Imagine your last breath.  What do you want to remember the most?  The evening news or … ?
If we simply monitor our priorities, a shift will begin.  We won't need drama or contention or turmoil to fuel our day.  We may even prefer peace.  
I find it amazing how the national news is so obsessed with stories with a negative bent.  Do they think that is all people want to hear about?  Apparently.
What will change that pattern?  Each of us … as part of the whole, or otherwise?  ~dh
  I want to leave you with that question until my next journal entry,

Friday, February 21st

.
A Brief Meditation
Year five begins today in this sunny creative space for kindred spirits.
May we continue to inspire each other with mutual support, trust, and words that
somehow rise above the fray. And may we all aspire to know ourselves ever more deeply,
even as the external world tries to pull our attention elsewhere.
Thank you for being here to share this journey beyond self.
"If you get the inside right, the outside will fall into place. As soon as you honor the present moment, unhappiness and struggle dissolve, and life begins to flow with joy and ease. When you act out the present-moment awareness, whatever you do becomes imbued with a sense of quality, care, and love – even the most simple action."  ~ Eckhart Tolle

Blog by SunnyRoomStudio: all rights reserved.