Welcome back to SunnyRoomStudio. 
It's Year Five for this sunny space for kindred spirits, and this is my 3rd journal entry for a 4-month (February – May) spiritual journal: Turning Within.
Posts will be brief, but introspective. I hope you will journal along with me. The external world can feel glittery and compelling; we are easily distracted. Yet, self-awareness, self-discovery, and spiritual realization spring from within.
 ENTRY THREE: Turning Within
My intuition can be extremely strong … providing immediate awareness.
Trusting it, accessing it, means turning down the noise of the world.
There are many layers to life, many ways to get through the day, or to celebrate it for no reason at all. But excessive activity can mask spiritual presence by falsely shaping my perceptions or complicating my life purpose.
Life becomes a race to get more done.  
But I no longer relate to that generic life mission … to that funny goal of always having to "get somewhere."
I am already there: always have been, always will be. 
Greeting the day with a sense of completion and "rightness" (regardless of world noise or curious cultural standards for what a "good" life should entail) is the truth of our spiritual dimension. And an orientation that changes everything.
Settling in with this awareness each morning generates peace, and from that perspective, each breath resonates with the depth of everything. Each day is spring. ~dh
For your journal:
Turning within, at various times during the day,
what do you find? Does it surprise you?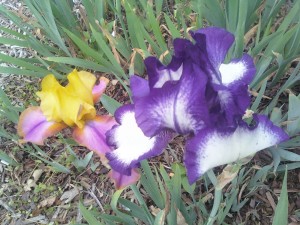 "Be clearly aware of the stars and infinity on high.
Then life seems almost enchanted after all." ― Van Gogh
Thanks so much for being here. Journal entries post every other Friday morning (next entry: March 21st). I hope you decide to keep a journal as we go; at the close of this series, we will definitely compare notes.
If you missed the first earlier posts in this series, click here: Turning Within.
My lovely Studio Guest next

Friday, March 14

, is Wyoming author, Tamara Linse.
Just remember: If you haven't looked within, you haven't looked.

Blog by SunnyRoomStudio: all rights reserved.