Welcome back to SunnyRoomStudio.
For the final part of our mini-trilogy this month, I'm sure you anticipate our return to the insightful Ram Dass quote: "Our journey is about being more deeply involved in Life and yet less attached to it."
What have you been able to pull from his words — what level of awareness have you discovered in exploring this very succinct quote that says a great deal?
When I wrote Where the Heart Resides: Timeless Wisdom of the American Prairie some 15+ years ago, I explored the wisdom of looking beneath the surface of things … of looking within for the deeper message. There are many layers of truth, many layers of reality. Some, we could even call transcendental.
That's where I want to be whenever possible. But it's easy to get drawn in at surface level, isn't it? Easy to react to the gravity of challenging emotions or memories that spring to life when least expected … as though testing us, teasing and taunting us.
Sometimes we need to see this for what it is — perhaps the emotions, the memories, are signaling us to look back once more. Perhaps a familiar road offers the "depth" we now seek in life. Though known in one way, maybe it's time to "know it" otherwise.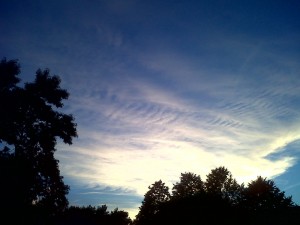 As I wrote in a new preface to the Heart Resides book (new title: ALWAYS RETURNING … The Wisdom of Place): "We are never finished – not in terms of personal growth or spiritual realization. Rather, we're always, and inevitably, returning—coming back, coming round—as our perceptions ripen: as we gather the delicate strands of our lives, time and time again."
So I think Ram Dass is offering us real wisdom when he says our journey is about being more deeply involved in life. Usually deep involvement with life means returning to our own internal wisdom when we have lived on the surface too long. When the external world has pulled us in a million directions with a multitude of sparkling distractions.
And sometimes it takes a life catalyst, or a stunning prairie sky to lead us there.
What will lead you there?
As I also wrote in the new preface for ALWAYS RETURNING: "So now, because of grace and perseverance and love, we return to the timeless wisdom of the prairie. A life wisdom, actually. Symbolic of the space within, the vast and glorious landscape of home first taught me about my physical roots, then about my spiritual roots. One led to the other as though ordained, and I'm extremely grateful that I happened to notice. Please keep noticing, deeply so, your life – the one within. It is your place, no matter where you reside."
In the end, we are always returning to what we know is true on a profound and nearly indescribable level. Intuition or a connection to a deeper universal intelligence … however you wish to describe it, when something resonates deeply within: we pay attention. We "know."
Regardless of our physical surroundings, looking deeply within can return us to our sense of place.
"Wherever you find yourself, the most important thing is to be there fully.
Not as a visitor, your shifting gaze drawn elsewhere, but in body and
soul, as you come to know the completeness of each moment,
finding wisdom in everything you see and encounter."
~ ALWAYS RETURNING: The Wisdom of Place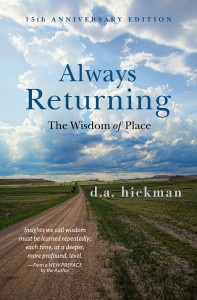 "I, for one, have never been keen on prepackaged systems for personal growth. Wisdom that is organic and commonsensical, that taps into our inherent spiritual awareness, has an authentic and powerful ring to it. And, fundamentally, since life is seldom predictable, we must draw from the curious well of experience time and time again until we find our true place within. I hope, as you read, you will find opportunities to tap into your wisdom, more fully, perhaps, than before, while seeing this book as a starting point for dedicated exploration that is spiritual, heartfelt."
Soon there will be a new page here in SunnyRoomStudio — called Always Returning, there you will find all the book release details you've ever wanted! In short, though, the book will be available as print (paperback) and in various E-book formats. I hope you enjoy it! It was a great pleasure preparing the second edition of a book that is so dear to my heart. A reader wrote this to me after she'd read the first edition: Thank you for putting into words the very core of my existence. I hope this book also speaks to you in memorable ways, on many levels. Like the Ram Dass quote, I hope it encourages you to become more deeply involved in Life.
Thanks so much for being here. This sunny space, launched in early 2010 in memory of my son, Matthew, has become a wonderful and life enhancing bridge: to others and to myself. We are all Kindred Spirits in this journey called Life. Next month I have two wonderful guests coming up: Karen Levy and Sukey Forbes. Both are authors of memoirs that speak to the soul. Though I haven't had a chance to read their books yet, I've learned enough to feel comfortable recommending them. I've also added them to my Book Ideas page here in SRS. Karen is with us October 10th, and Sukey is here October 24th. I know you will enjoy meeting these talented women!
As our mini-trilogy concludes, I hope you continue to ponder the Ram Dass quote. What he's asking us to do can sound impossible, but I think his words are the key to many things.~ dh

See you next Friday, October 3rd and, until then, thanks so much for stopping by this sunny space for kindred spirits, now in Year 5.
Remember: If you haven't looked within, you haven't looked.

Blog by SunnyRoomStudio: all rights reserved.