YES, the world seems a vast sea of uncertainty and chaos. We clench our teeth and hold our breath. We mutter about "how bad things are" and we worry about tomorrow. We wonder if it has always been "like this" or if the world is tilted in a vastly new direction of unseen consequences. And, often, our customary reaction to the next crisis (or shocking development) launches yet another cycle of concern, anxiety, or even … depression. All of this hand-wringing clouds our vision, though. We don't see the rose in our path. Not really.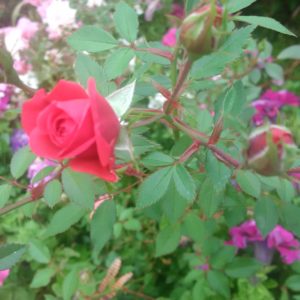 "Some people grumble that roses have thorns; I am grateful that thorns have roses."
–Alphonse Karr, A Tour Round My Garden                                                               
Yes, we've heard this sort of thing before. And we know we shouldn't let external events fog our inner vision. But … we do, don't we?
At least most of us do.
I watch the tide go in and out with every new media story hyped beyond reason, and I marvel at just how easily we tend to give up our personal equanimity. And, for what, exactly? We literally have no control over 99% of what the media focuses on; our level of personal involvement is slim to none. Still, we watch, we listen, we react, while squeezing in our own precious lives around the edges. I guess I just don't get it. Are we so bored that we are willing to pretend the nightly news is "truth?"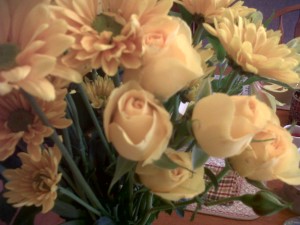 "I feel as if I had opened a book and found roses of yesterday sweet and fragrant, between its leaves."
― L.M. Montgomery, Anne of the Island
During the month of July … my suggestion is simple.
Refuse to be drawn in. Stay intent on your own life. Let most of it go by, because a reactionary posture is exhausting for one thing. It merely drains the life from your day … from your soul. At least pause long enough to realize that external events will always fall short of our expectations. And if you must turn to external events for entertainment purposes, please limit your gazing, inhibit your ruminating about any, or all, of it.
What good could it possibly do, in the end?
Yes, we need to be informed … to a point. Yes, we are concerned about the human condition … so we want to "know." And, yes, we have issues that are close to our hearts for various reasons. All of this is understandable. But too often we are simply gazing at life from afar instead of staying focused on what is right in front of us. The cost is enormous. We feel agitated, annoyed, and perplexed. The peacefulness we felt is suddenly gone. We also put useless energy into a constant cycle of reaction. Step away in July. Step back and see if anything changes.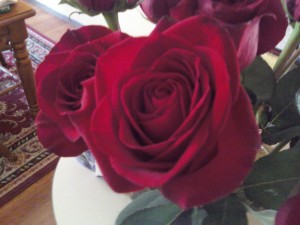 "It's amazing how confused and distracted and misdirected so many people are."
–Stephen Covey
When I wrote ALWAYS RETURNING: The Wisdom of Place (first edition, '99; second edition, 2014), I was already contemplating these things. I'd grown up with open spaces and generous landscapes that seemed "complete" and "life-sustaining" without anything more. This book, my first, resonates with me more and more each day.
"In a place where very little stands between an individual and his or her innermost self, the chances of a genuine encounter are greatly enhanced, and it becomes incumbent on a thinking person to do some soul-searching around the issue of happiness. Contemporary society, with its many bells and whistles, offers a different fare, and while it can create an image of abundance, its impact is faint, more like a mirage."  —d.a. hickman, Always Returning: The Wisdom of Place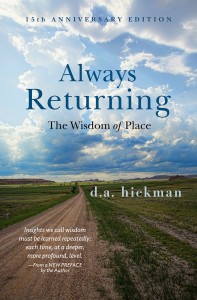 And then when I wrote my memoir, not surprisingly, I found myself returning to my roots — geographically, spiritually, and emotionally. Loss is like that. It shakes us about like a rag doll, drops us back at the beginning of our remembered history. Without the simplicity of open spaces and poetic grasslands standing tall in my memory, I'm not sure how I would have had the courage to confront the greatest life mysteries … the ones that loss seems to suggest and point to. In a chapter called "The Way of the Sage", I wrote:
"Windows open, we listened for a red-winged blackbird, relished the smell of fresh air, its absolute freedom as it connected with our weary, time-bound faces. Maybe we would spot a stunning blue heron in flight. It was the way of the sage. To perceive deeply, to acknowledge the divine oneness of the universe, our inherent, ever-changing role as imperfect life custodians. The life that we are … in countless forms. Temporary yet timeless. And when I am fully aware, not absorbed, or sidetracked, by the dictates of mind, time, or circumstance, I not only see beyond this paradox: I see into it." —D.A. Hickman, The Silence of Morning:
A Memoir of Time Undone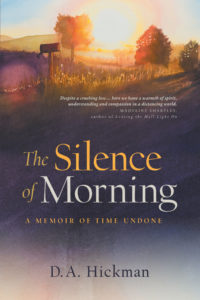 SPECIAL NOTE: The Kindle version of The Silence of Morning will be offered at reduced prices from July 3rd through July 10th. Happy 4th of July everyone! And please remember that while uncertainty and chaos may seem like reality, only our inner dimensions tell a true, personal story. So if you prefer calm and knowing and peaceful, tune out the endless steam of external events for a while. It's amazing what a profound difference this can make.
Paint the day … stay inspired … look for the deeper story of landscape, art, and daily life. Even the challenge of sorrow and loss can lead us to a deeper life story. –dh
My recent book interview on Richard Gilbert's blog, can be found here
WE NEED MEMOIR.
Thanks again, Richard!
◊
Thanks so much for stopping by this sunny space for kindred spirits.
See you again Friday, August 5th.

Blog by SunnyRoomStudio: all rights reserved.