EACH TIME I pick up a captivating memoir, I'm further convinced of the value of books that share pivotal pieces of our lives. Memoirs that elevate the conversation, that provide thoughtful insight into what it feels like to experience something universal yet only vaguely understood, that shine a light on an author's decision-making process.
"Moving from place to place, you develop routines to ease any confusion. Like never opening your suitcase your first day home. An open suitcase only leads to long hours doing load after load of tedious laundry… ." ~ Leigh Newman, STILL POINTS NORTH: One Alaskan Childhood, One Grown-up World, One Long Journey Home (Dial Press, 2013).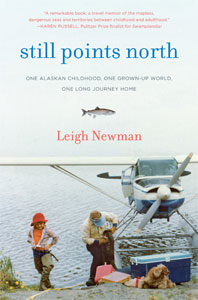 I also find it fascinating how so many of us manage to stumble across books we end up reading, and loving. Call it serendipity, chance, good fortune, dumb luck, spiritual intervention, the manifestation of mysterious energy patterns, or even destiny, but rarely do I read a book that seemed to simply walk across my life path and not enjoy it. Trusting these intuitive nudges, this gentle guidance from within, could be the key. I try to take those nudges seriously, don't you?
When I saw the cover for Still Points North, for instance, I immediately thought looks interesting. A young girl near a body of water. A small plane. A man with his head bent, busily doing something. A blue cooler planted on the shore. And the young girl was wearing an orange hat, standing beside some yellow wildflowers. Intrigued, I soon tracked down a copy of the book and discovered the world of Leigh Newman. Yes, she was somewhat known to me before, but only cursorily from social media outlets. One day though, she posted something on Facebook that touched my soul. I sensed empathy and understanding from her post and knew this was someone I wanted to know a bit more about. Then, of course, I discovered her memoir.
Having published a memoir myself recently, I am drawn to books in this genre that capture life experience in a way that is somehow unforgettable. Certainly many of the details in books don't "stick" (and that's okay and normal and good), but in the end, I still want to find something lasting in any book I devote my time and attention to. If I can't sense the author's spirit coming to life as I read, I won't keep turning the pages; more importantly, the story will fade from my awareness very quickly.
Great books help you understand, and they help you feel understood.
–John Green
In her memoir Leigh writes about her wedding: "The minister stands beside him, adorned in casual interfaith raiments. Daisy garlands and twinkle lights distract from the broken boards and gutters. A bug-bomb jammed down the pump has wiped out the wasps."
Doesn't sound like the traditional church wedding, does it?
Rather, it sounds like something real … something without the familiar trappings of feigned perfection so many traditional ceremonies seem intent on projecting. Fortunately, there are many other distinguishing elements of the author's story that make Still Points North a most compelling read. Universal feelings and events shaped by unique personalities and circumstances…the kind that helped me connect with well-remember feelings of confusion, quiet despair, and innocence common to every childhood.
How, for instance, would you navigate the turbulent, somewhat dark and frightening, waters of your parents' divorce as a young girl? How would you love and learn from a beloved grandmother, a final and inevitable good-bye hovering in the background? And while you are busy growing up, you learn a troubling fact: that your grandmother lost a child, your father's sister, to suicide. How would you make sense of such a troubling event when it's not openly discussed by the adults around you? And because of your fiercely independent spirit (Alaskan style!), you wonder how to survive an American culture of tradition and conformity, a world that expects you to behave in predictable, possibly less-than-satisfying or inspiring, ways?
On a purely fun level, given my first name (my grandmother was also a Daisy), I loved the many mentions of "daisy" throughout Leigh's memoir. "I drew a daisy on the waiting list." And her mention of "ding-dong" also resonated with me. I thought I was the only one on the planet who used the expression! Not so, apparently. "I stared at the untied lace of my wader boot. I knew what I looked like to him: a big liberal ding-dong from Baltimore, a hypocrite who no longer understood the reality of the food chain."
Long story short: read Leigh's book. I believe you will find yourself on the pages of this beautiful memoir, and that is a good test of most any book. But especially of memoir. Too often misunderstood by critics who miss the point entirely or reviewers who lack the empathy or compassion to take an authentic interest in how others suffer, struggle, grow, or simply manage to navigate profound life challenges, I believe a well-written memoir is an important bridge to understanding the intricacies of the world around us. Offering insight into the vagaries of the human condition, we are permitted a genuine glimpse of the human soul.
What more could we possibly want … ?

Out walking our dogs one summer day, I noticed this chalk art on the sidewalk. Most children love to draw, and maybe the straightforward message here is a good reminder. Maybe love is what really carries us through our early days. We may not see it that way at the time but, in retrospect, love probably helped us power through difficult days that, as kids, we typically thought should be more fun, more better, more something.
If you've almost forgotten what it's like to be a kid in a grown-up world, Still Points North will take you back, while still  managing to release you intact and renewed in today's current. The stream of life rarely stands still, except when we manage to capture moments and hours within the pages of a book. The gift of connection offered by artists and authors like Leigh Newman is another reason we need and benefit from memoir. To appreciate life stories we merely have to care about our fellow man and woman in a world that often sidesteps the profound importance of knowing and practicing genuine concern for others. Though our contemporary culture often seems intent on producing the steady drumbeat of narcissism, reading memoir can help us to remember our shared journey to the same final destination.
As I wrote in The Silence of Morning: A Memoir of Time Undone, a memoir about my spiritual quest to understand the deeper message of loss, the very mysteries of existence, "We are all challenged, through the various life catalysts that show up, to find peace, contentment, and greater spiritual awareness in a world focused on everything but."
So in the end … it's not about getting the challenges we face "right" … it's about something much more profound and lasting. It's about encountering ourselves in those steep life passages and discovering that we are multi-dimensional and forever connected to the human family. ~ dh
If you only read the books that everyone else is reading, you can
only think what everyone else is thinking.
–Haruki Murakami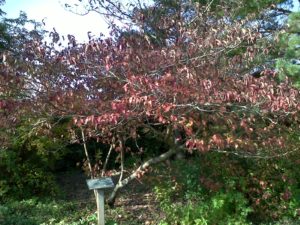 How do you make sense of your younger years, or is this ever really possible?
Describe a moment in your life that you now view as pivotal.
What life experiences remind you of the collective nature of existence?
Does memoir help you understand the human condition?
What insights are you seeking; what puzzles you about your life?

Thanks so much for stopping by this sunny space for kindred spirits.

Blog by
SunnyRoomStudio
: all rights reserved.