Welcome back to SunnyRoomStudio.  This is my final post in a 4 month series devoted to sharing a few of the books on my shelf.  This blog series began October 11, 2013, with a post called Journey of Inquiry.
At that time I focused on an essay by Gregory Orr, "The Making of Poems", from a book called This I Believe: The Personal Philosophies of Remarkable Men and Women (Holt Paperbacks, 2007).
So today, I close out this series with another essay from the same book — yes, we have come full circle.  Exploring books, literature, authors, poets.  Voices that have reached out, somehow connected us to their lives, and to ourselves.  What greater gift?
By Elizabeth Deutsch (Earle), "An Honest Doubter"
In this brief essay, Elizabeth was merely 16, but she won an essay contest with it in her hometown of Cleveland.  The contest was called This I Believe and her prize was a trip to New York City to record her essay for broadcast.  She was exploring her sense of religion at that age, wondering if she believed or not.  She writes of visiting different churches, and how many of her friends had simply chosen to follow the religion of their parents.  But Elizabeth values the search.
"I have a simple faith in the Deity and a hope that my attempts to live a decent life are pleasing to Him.  If I were to discover that there is no afterlife, my motive for moral living would not be destroyed.  I have enough of the philosopher in me to love righteousness for its own sake."
She admits hers is a "youthful philosophy" that may evolve, and closes with this: "Sometimes in a moment of mental despair, I think of the words 'God loves an honest doubter' and am comforted."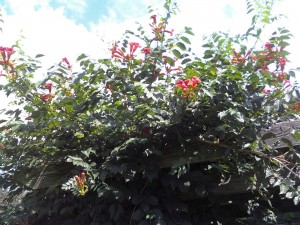 In a follow-up essay, "Have I Learned Anything Important Since I Was Sixteen", (it's 50 years later now), she writes that her beliefs haven't changed a great deal, and that the world still worries her.  Elizabeth also cites a phrase she's heard, admires: wherever you are, be there.  She goes on with how it feels when she becomes deeply, acutely aware of right now.  "This is a precious experience, one to savor."
It sounds like she has enjoyed her journey of inquiry, grown in the process.  And I would guess the process of inquiry is more important than trying to pin down our beliefs moment to moment.  They will all fade, then disappear, one day anyway.  But if we are "open" to learning and growth–if we aren't sure of too many things–life will continue to unfold around us, offering new insights, new revelations, as long as we are here to notice.
How is your journey of inquiry going?  What are you reading, doing, imagining to help you push beyond your comfort zones?  What new beliefs have replaced the ones that no longer appeal to you — that no longer light your way in the dark?  Ideas!  If you don't like poetry: read some.  If you don't like books by spiritual leaders you've never heard of: read some.  If you don't like to sit quietly: sit quietly.  If you think you need "more:" pursue less.  If you think you are certain of your beliefs: try uncertainty.  Let the world show you its secrets.  Let the world amaze you.
I'm glad you've been here to share this 4-month series.  And I hope you've enjoyed it.  As many of you know, last year, I wrote an online spiritual journal in 17 posts called Seeing It Otherwise.  Next Friday, February 7th, I'll begin a new journal for 2014.  Title to be announced then.
AND since next week is the 4th anniversary of SunnyRoomStudio, I'll share a special meditation for year 5 of this creative sunny space for kindred spirits.  I look forward to seeing you then! ~ dh
"I would love to live like a river flows, carried by the surprise of its own unfolding."
~ John O'Donohue

Blog by SunnyRoomStudio: all rights reserved.