SunnyRoomStudio is on summer break, but in September, I'll have availability details re the 15th Anniversary Edition of my book about the wisdom of place. The spirituality of landscape can indeed connect us to a much bigger life story via our own wisdom.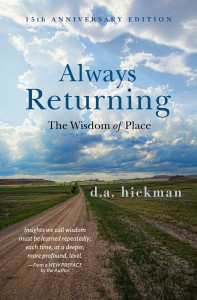 Thanks Kernit Grimshaw Photography & 1106 Design!
If you missed THAT DAY, it was the 14th journal entry for Turning Within,
a spiritual journal we began in February.
Thanks for stopping by this creative, sunny space for kindred spirits!
Please feel free to browse around SunnyRoomStudio; see you again September 12th. 

Blog by SunnyRoomStudio: all rights reserved.