Insights we call wisdom must be learned repeatedly:
each time, at a deeper, more profound level.
— From a NEW PREFACE by the author
"Drawing me in on a profound and memorable level, regardless of where I've lived,
my prairie roots have loomed large. And I find myself always returning to that
place one way or another – seeking and sharing its wisdom, remembering
its timeless message of survival, finding solace in its powerful presence."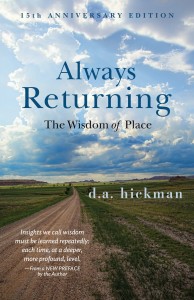 5-STAR REVIEW by Sherrey Meyer
"Always Returning is truly a book providing a map to the heart, a map GoogleMaps, Bing Maps,
and Mapquest cannot offer. Hickman shows us where to plant our hearts and nurture them
so their growth extends beyond us to others. If there is hope for peace on this earth,
that hope may just be found in prairie wisdom."
AUTHOR INTERVIEW by Matthew Peters
"Looking inward is critical to our well-being and spiritual realization. If we are constantly
living on the surface of life, distracted by every noise, every news bulletin,
we will never find our spiritual center."
◊
"Each page nudges us toward greater self-understanding – opening
up a life story as big as a prairie sky."
~ Holly Weiss, author of Crestmont
"Hickman is a spiritual pioneer guiding us all to a universal truth:
everything needed for a wholehearted life resides within."
~ Kathy O'Neill, blogger
"Always Returning unearths a timeless and organic life wisdom that derives
from the spirituality of landscape: place and people."
~ Nancy Sutton Smith, director, producer, and teacher
AVAILABLE on Amazon (paperback & Kindle) and via other online
bookstores in paperback and eBook formats.

Bookstores or libraries can order directly from IngramSpark.

978-0-9908423-5-4 (print)
978-0-9908423-7-8 (eBook)
♦
ALWAYS RETURNING
where did life begin if not
on a return trip . . . from
somewhere or something?
like faded white lilies or
autumn leaves that feed
the earth only to return with
the persistence of spring,
life is a basket of motion:
coming back, coming round.
~ D.A. Hickman, 2011
(poem first published in Pasque Petals Journal )
 Book published by Capturing Morning Press, 2014.