By logic and reason we die hourly. By imagination we live.
–William Butler Yeats (1865-1939)
A sunny room isn't about always being upbeat, energized, or falsely positive. Rather, it's about exploring topics that take us beyond the contentious
nature of the world — the noticeable penchant for conflict, negativity, acrimony, controversy, and drama.
There is more to life than surface distractions …
I'm a publisher, an author, and a poet. I'm also a lifelong student of society and culture.
My new release is forthcoming, July 2017.
My first book of poetry captures the tedious but compelling nature of time.
My first book was a merger of my literary instincts and a strong desire to discern and articulate the wisdom that lives within each of us when we nurture a deeper awareness of all that surrounds us. I focused on the timeless wisdom of place and people by unearthing the organic wisdom of a landscape, a prairie landscape, that offers great beauty and surprising inspiration.
Prairie wisdom, really a life wisdom, isn't exclusive to the prairie … it's just one way to draw the wisdom from your surroundings. In my case, from a landscape offering a mesmerizing canvas, challenge, adventure, and yes, hardship. From a spiritual perspective, the open spaces of sky and land invite contemplation. Whitman and Thoreau told us about such things many years ago, so it was especially meaningful to revisit ideas and concepts that are indeed timeless.
My spiritual roots were forged by a people, a place, that has something of importance for everyone. It's merely a matter of seeing beyond the obvious. Surface impressions (superficial understanding) are limited, and limiting. I've long been a student of society and culture. While studying sociology in grad school, but also in terms of being naturally observant and attentive. Group functioning, collective mindsets, and so on, are extremely influential, but too often we fail to see the bigger picture.
Thanks so much for visiting SunnyRoomStudio. Hope to see you again soon!
Some painters transform the sun into a yellow spot,
others transform a yellow spot into the sun.
~ Pablo Picasso
Email: wisdom (at) sunnyroomstudio (dot) com
Twitter and Facebook @ SunnyRoomStudio
B.A., Stephens College; M.S., Iowa State University
"An ever present force, the prairie reminds and focuses us: It tells its story each day; it acts as a constant companion, one experienced in matters of the heart; it effectively bridges the gap between past and present and future, fusing them into a splendid whole.  A quilt of many colors, a swirling design representing a gorgeous piece of art."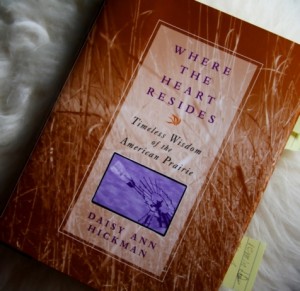 First Edition
Where the Heart Resides: Timeless Wisdom of the American Prairie
by Daisy Hickman (William Morrow /Eagle Brook imprint)
Original book photography (1999 edition) by Bob H. Miller

◊
No one lights a lamp in order to hide it behind the door: the purpose of light is to create more light, to open people's eyes, to reveal the marvels around.
~ Paulo Coelho