Welcome back to SunnyRoomStudio. 
It's Year Five in this sunny space for kindred spirits, and this is my 6th journal entry for our 2014 spiritual journal: Turning Within. To remind: posts will be brief, but introspective.
I hope you are also keeping a journal. The external world can feel glittery and compelling; we are easily distracted. Yet, self-awareness, self-discovery, and spiritual realization spring from within.
 ENTRY SIX: Turning Within
I'm working on a 15th year anniversary edition of my first book …
I wondered if I would still believe in my message … would the words still ring true.
Luckily, they do …
I'm learning, too, that insights we call wisdom must be learned time and time again … each time, at a deeper, more profound, level. We are never "forever" and "completely" w i s e.

We are all in a process of becoming wise … wiser, perhaps. But it's a journey without completion.
I will change the book's title for the second edition, because I view the contents differently now. Time has elapsed; life has happened; a new umbrella seems appropriate.
But, essentially, what I wrote about still resonates. Maybe more so, in fact.
Spiritual awakening via landscape, culture, and place … in a book originally called: Where the Heart Resides — Timeless Wisdom of the American Prairie  (William Morrow, '99).
I've written a new preface for the book; that was fun. Returning to something with "new eyes" is the point of life: time and time again. We are never "finished," never done growing — not in the spiritual sense of things.
So this week as I return to this project, I want to savor each word. What a joy to be able to revisit each chapter, each idea, as though for the first time.
As many have  explained, we are reborn each day; and I think there is great truth in that.
"Each night, when I go to sleep, I die. And the next morning, when I wake up, I am reborn." ― Mahatma Gandhi
Easter is a significant holiday for me … for many reasons. The memoir I'm working on goes into this.
Endings and beginnings merging into one. Like each one of us.
The whole of existence a reflection of many such moments. Some more noticeable than others. ~ dh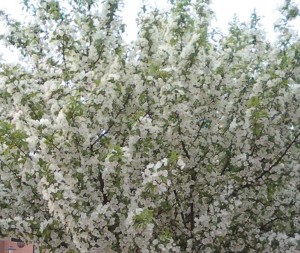 Twas Easter-Sunday. The full-blossomed trees
Filled all the air with fragrance and with joy.
~Henry Wadsworth Longfellow
 For your journals:
Beginnings and endings seem like specific life markers,
but if you turn within, really consider the seamless flow of life,
do you also sense there is no such thing, really?

Thanks so much for being here. Journal entries post every other Friday morning (next entry: May 2nd). Hope you are keeping a journal; at the close of this series, we will definitely compare notes.
If you missed the earlier posts in this series, click here: Turning Within.
To browse SunnyRoomStudio guest posts: Studio Guests.
Remember: If you haven't looked within, you haven't looked.

Blog by SunnyRoomStudio: all rights reserved.