I like to take my time with some books. The Seven Storey Mountain by Thomas Merton is one of those. I started reading it in 2014, and am finally, almost finished. I've read many other books during this time, some in a few days. But this one (first published, 1948) seems best taken in small gulps, while weaving in the demands of everyday life. Merton's journey to find his spiritual truth is almost like a guide to living. For one thing, he doesn't give up, despite countless setbacks. And he refreshingly notes how his personality, his past, and his dogged uncertainty follow him around like dancing shadows he can't quite penetrate.
"To allow oneself to be carried away by a multitude of conflicting concerns, to surrender to too many demands, to commit oneself to too many projects, to want to help everyone in everything, is to succumb to the violence of our times." ― Thomas Merton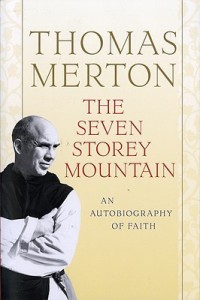 In the spirit of Merton's journey, the main thing I wanted to communicate via this brief blog post is that regardless of your particular life situation … whatever inner struggle you are experiencing … wisdom is everywhere. Seek it out, especially in books that are a "slow read" … because they are so full of life!
"The mediocre teacher tells. The good teacher explains. The superior teacher demonstrates. The great teacher inspires." ― William Arthur Ward
Above all, Merton was a teacher. And he is still teaching us, should we choose to tune in. It's not a matter of agreeing or disagreeing with him … it's a matter of appreciating his process to get to a place of peace in his life. That process is as relevant today as it was when he was experiencing everything he wrote about. As autobiographies go, this life story is one to sink into for as long as you can … letting Merton's style, compassion, and understanding seep into your day.
Merton's process IS the point.
His story probably could have been told in fewer words, no doubt. But then we would miss the intriguing layers of tension, the unresolved struggle in his life to measure up (in spiritual terms) so that he might realize his higher dimension. The depth of his anguish … the depth of his joy … would all be missing. That is the real beauty of a book like this. We feel like we "know" this man as we read on … really "know" him. That alone is a very good reason to read Merton … probably more than once. ~
"The greatest need of our time is to clean out the enormous mass of mental
and emotional rubbish that clutters our minds."
― Thomas Merton
Thanks for stopping by. Hope to see you again next Friday, as I continue to focus on memoir — the genre, the path, the point of it all. I'll also have an update soon on the release of my forthcoming memoir: The Silence of Morning — A Memoir of Time Undone.
When we value the journey itself, new realities are revealed amidst the old.  –dh


Always Returning: The Wisdom of Place

is about digging into our surroundings to unearth an organic, timeless wisdom. If you're looking for inspiration or want to lean more about a landscape, a place, that helped me to unearth my spiritual roots, this may be a book you'll enjoy. We are much wiser than we imagine; it's just a matter of tapping into what we already know. ~

Blog by SunnyRoomStudio: all rights reserved.