I'm really pleased to welcome author Carolyn Walker to SunnyRoomStudio. Sometimes life calls us to cope with the unexpected. Nearly always, in fact. And when the unexpected involves the people we love, we usually feel uncertain, unprepared, and overwhelmed. So Carolyn, like many of us, decided to write about her experience in a memoir (Garn Press, January 2017) called Every Least Sparrow.
"No one is without troubles, without personal hardships and genuine challenges.
That fact may not be obvious because most people don't advertise their woes and heartaches.
But nobody, not even the purest heart, escapes life without suffering battle scars."
― Richelle E. Goodrich, Smile Anyway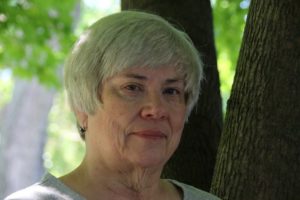 WORD AFTER WORD
by Carolyn Walker
I remember vividly the day I announced to my mother, while the two of us stood in our living room, "I am going to be a writer." I was ten years old. I had no idea, of course, how to generate, or recognize, good ideas, push through rewrites, or use imagery and grammar. Having not yet discovered Nancy Drew, I wasn't even much of a reader. Nevertheless, in my innocence, I somehow foresaw that writing would be my calling. At that age, I couldn't know that it would become my platform.
I began writing by producing silly poems, and my mother, a secretary given to organization, became my biggest supporter. During my teenage years, when I was especially prolific, she surprised me with a green and white filing box to hold my writings, and during my adulthood, clipped my weekly columns from our small town newspaper and slipped them beneath the cellophane sleeves of a scrapbook. My mother's actions empowered me, and helped me to believe my words had value.
During my childhood and adolescent years, we lived in an idyllic, small village that included among its residents a round, wide-eyed mentally handicapped woman who liked to float on an inner tube in the local lake, and a woman who probably had cerebral palsy, who rode about the village on a three-wheeled bicycle. If there were any disabled children in the neighborhood, I didn't know them, although I did attend junior high with a few who had mental handicaps and who were sequestered most days in a private classroom.
Sometimes I would sit at the kitchen table and talk about these folks, their differences, the teasing I saw them endure, their obvious loneliness, while my mother did the dishes. She'd listen and then say, "There but for the grace of God go you." This was her way of telling me that disability could have been mine, and I should be grateful that it wasn't.
But then it was.
In 1977 I gave birth to a daughter who has Rubinstein-Taybi syndrome, which affects her IQ, various body functions, and her appearance. She was followed ten years later by my son, who is on the high-functioning end of the autism spectrum, and who coincidentally is gay. Those dual challenges have rendered him a true eccentric who has been devastated by bullying.
Whatever I imagined for my career as a ten-year-old, writing about disability and equality was not it. Even early in my marriage I couldn't have guessed that children with these kinds of complications would come my way.
It didn't take me long to fall in love with my children, and raising them has made me reevaluate any preconceptions I harbored as to what is beautiful, what is normal, and what is acceptable.
I often wrote about my children in my column, and later personal essays and memoir. I found that the page gave me a place to think deeply about what it means to be human.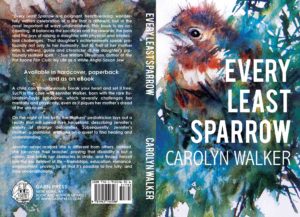 My daughter and son are adults now, but when they were little I would sometimes stand at their bedroom doors and consider them as they slept, as I know my mother did with me. I'd look at their peaceful faces and think about the difficult world they would have to live in. This made me wish I could change the world, help it to become a more understanding and compassionate place. After half a century of writing, I believe I can, word after word. ~
Fire tests gold, suffering tests brave men.
― SENECA
Carolyn Walker is the author of the memoir Every Least Sparrow, a book about raising her daughter Jennifer, who has Rubinstein-Taybi syndrome. In May, 2017, the book was nominated for a Pulitzer Prize by Garn Press.

Walker, memoirist, essayist, poet, and creative writing instructor, worked for twenty-five years as a journalist, before returning to graduate school. She earned her MFA in Writing degree from Vermont College of Fine Arts in 2004.

In 2013, she was made a Kresge Fellow in the Literary Arts by the Kresge Foundation. Walker's work has appeared in The Southern Review, Hunger Mountain, The Writer's Chronicle, Gravity Pulls You In: Parenting Children on the Autism Spectrum, HOUR Detroit, The Detroit News, and many other publications. Her essay "Christian Become a Blur," published in the literary journal Crazyhorse, was nominated for a Pushcart Prize. Walker is a creative writing instructor for Writer's Digest University, Springfed Arts, and All Writers Workplace & Workshop. She has been a writing resident at Vermont Studio Center, and Noepe Center for Literary Arts on Martha's Vineyard. She is a lifelong Michigan resident, and the married mother of three adult children.
♥
♥
Thanks so much, Carolyn, for being my 48th studio guest here in SunnyRoomStudio!
Wishing you all good things in the years to come. Keep me posted on your literary endeavors.
Thanks so much for stopping by this sunny space for kindred spirits. See you again soon!


Blog by SunnyRoomStudio: all rights reserved.