As we know from the esteemed poet, Robert Browning, "God is the perfect poet."  Still, many of us try to write poetry and create art, knowing we are up against a tough act.
When I encountered Terrill Welch and her artistry, I knew I'd discovered someone who, indeed, had a deep appreciation for the poetry of the world.  And also someone who created wonderful works of art that drew me in effortlessly.  Terrill's blog is a lovely place to visit whenever your creative muse is tugging at your heart or whenever inspiration is sought, as she showcases her work and her world with a simplicity that magically captures the many shades of life.
Consider, for instance, Terrill's artist statement:
British Columbia artist and photographer Terrill Welch's distinctive palette, quick sure painting strokes, and photographic images capture forest, sandstone, sea and sky.  They remind us that there is only one moment — this one.  Where does her powerful yet gentle creative expression come from?
Born in the village of Vanderhoof in north-central British Columbia, Terrill's art training came at an early age and continued more in the European style of mentoring and tutoring.
Terrill Welch's work, in water miscible oil paintings and photographic canvas prints, showcases the beautiful, mysterious and rugged southwest coast of Canada.
A complete artist's biography is located on Terill's popular Creative Potager blog.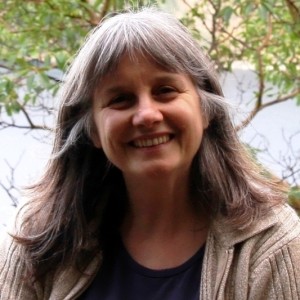 So here is Terrill  Welch — as captured by her
talented daughter during one of their hikes last fall.
FIRST LIGHT
by Terrill Welch
When Daisy asked me to be a guest blogger at Sunny Room Studio, I said yes without hesitation.
However, as the time drew near I thought "what am I going to write?"
Finally I came to my senses and realized Daisy asked me because she has been reading my Creative Potager blog.  She will be expecting what I usually do there.
So here we go …
Perhaps for as long as humans can remember, the earth turns and the sun comes up — every day.  Why then does it attract me so?  To see the first light is to witness a miracle. No two mornings are exactly the same.  Each day has its own precious beginning.
♥♥♥
"First Light" is a poem – threads pulled together with Daisy's encouragement:
Soft light creeps into my sleep.
Waking,
I find trees silhouetted against my dreams.
When dawn comes,
I'll be reaching over her shoulder
plucking the first light.
First Light is a photograph – taken on the first dawn of 2011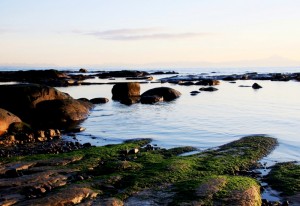 First Light is a painting – oil seascape painting "Winter Sun"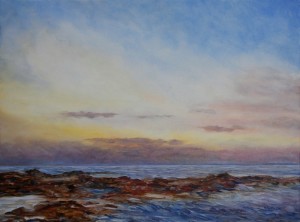 First light feeds my imagination and inspires my creativity.
Sprout Question: What everyday miracle inspires you?
Note to readers:
Sprout questions are questions to help grow and deepen your creative expression.
No matter who you are or what you do –
creativity is the emerald of your success.
Daisy, thank you!  Thank you for sharing your lovely Sunny Room Studio. Thank you for introducing me to your readers.  I am honored.  And I look forward to seeing you again soon at CREATIVE POTAGER – where imagination rules.
Terrill Welch
artist, photographer, writer
Thank you, Terrill, for sharing your creative spirit here in SunnyRoomStudio: a creative, sunny space for kindred spirits. As we greet a new year, FIRST LIGHT, holds great appeal.  Clearly, each dawn holds the promise of something beyond precise definition or understanding, and I have also been moved to write poetry about this captivating mortal experience that seems so ordinary, yet, so incredibly special.
There are several ways to connect with Terrill, and I encourage you to do so!  Via email, she's @ tawelch at shaw.ca and Creative Potager is her blog.
Terrill's intriguing sprout question above is also a great way to chat with her in the comment section.
Terrill Welch photography at redbubble
Facebook: Find Terrill Welch
Twitter
And so that we might collaborate a bit, Terrill, I decided to share a poem I wrote about this very subject.  First light, as Terrill pointed out so well, is many things.
Transcribed at Dawn
Stirred up by the dawn with
coffee in hand and perched,
like a bird in a tiny corner at
my east window, I felt the
transcendent power of a new
day easing in around me —
weightless,
silently pouring out its soul,
suggesting hidden promise —
so reaching for pen, paper,
I wrote precisely what poured
in with the light: insights, hints,
urgent directives, and fine words
of poetry that brought me back to
life like secret gifts of the morning.
–da hickman
May we all continue to be inspired by the "first light" — knowing its steady glow communicates everything.

Thanks everyone for visiting SunnyRoomStudio today.  I hope you've enjoyed meeting Terrill Welch and that you'll visit her her blog soon.  If you loved this guest post, you'll find yourself enjoying the Creative Potager with frequency.  She has a way of shining a light on many wonderful subjects with the potential to contribute to the peacefulness of our planet — something that is of great importance.
Blog by SunnyRoomStudio: all rights reserved.