It's easy to forget that many successful authors (in terms of books published, sales, name recognition) struggled to get that first book in print. But when looking for inspiration, writers usually turn to other authors who found a way through the puzzling jungle of drafts, queries, rejections, contracts, marketing, and so on. These personal stories are invaluable for creative reflection, practical advice, poetic musings about the journey itself, but most of all, they offer a sense of community and camaraderie.
When I'm between projects or just enjoying a little time off, nearly always I read a book about writing. Many of them are energizing and encouraging, despite chapters that necessarily focus on strife and doubt.
So, recently, I decided to read Writing Blue Highways: The Story of How a Book Happened by William Least Heat-Moon, once known as William Lewis Trogdon. As his fans likely recall, the first edition of Blue Highways stayed on the New York Times bestseller list for 42 weeks in 1982-83. Not bad for a first book. Of course this was just the first of many for Heat-Moon. The astute author has also published:
PrairyErth (a deep map)
River-Horse: The Logbook of a Boat across America
Columbus in the Americas
Roads to Quoz: An American Mosey
Here, There, Elsewhere: Stories from the Road
An Osage Journey to Europe, 1827-1830
In his latest release Writing Blue Highways (University of Missouri Press, 2014), the author loops back to share the context for his work and the story of his commitment–sometimes shaky, often empowered–that led to getting Blue Highways published. One might falsely assume it was an easy or brief flight from English professor to well-known author, however, such is not the case. The flight, in fact, was rather daring, definitely daunting, and to say it required serious perseverance is surely an understatement.
From the Columbia Tribune, May 25, 2014: "Whether you are curious about William Least Heat-Moon as a literary personality or you are a writer–novice-level or seasoned–you will find this revelatory book instructive, informative and entertaining. And while reading it, you can do so knowing that you are sitting at the feet of a master storyteller whose subject matter is the human tribe and the many places in which it dwells."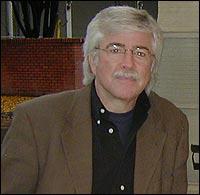 "Nonfiction, in a way, is also impossible," he writes on page 45. I found this statement interesting, because I couldn't agree more. No one has a perfect memory; no one does all the research possible; no one is allowed an unlimited number of pages to share the entire story in a way that even begins to capture "the all." So drawing a firm line between genres and ever-shifting book categories … well, no one has laser like judgment in this arena. I found it refreshing that Heat-Moon discussed this often overlooked fact.
Memory is a shadowed and warped glass, and its
reflections shift and twist about like a dust devil,
campfire smoke, rising fog. ~ Heat-Moon
Yet, a writer must do the best he or she can given the fluid nature of our existence. And within the pages of this book–one that eloquently weaves together the personal side of writing and publishing a book that breaks the mold with the professional demands of craft–there are some valuable suggestions: implicit and explicit. It's as if the author is trying to guide writers in meaningful ways, while simultaneously allowing ample room for them to figure things out on their own. Wise, because there are an endless number of viable paths to publication.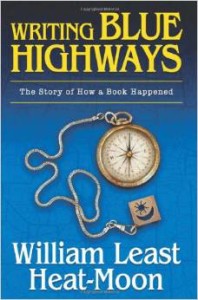 Everything under the sun, given time, changes
to something new. ~ Heat-Moon
The author points out the importance of building layers into a manuscript. And rightly so. Few things in life are crisp and organized, neat and tidy, or without nuance. Maybe in the generic, manufactured sense, but surely not in the depths of the human heart. Each explanation, each story, offers numerous degrees of truth and exactness, and it seems that exceptional authors put extraordinary care into their work so that readers can enjoy the depth of any experience that has found its way into a book.
Besides the difficulties of eventually finding the right editor and publisher for Blue Highways, Heat-Moon was also forced to contend with doubting family members and friends, those who didn't take the project seriously or  who believed the whole book-thing was taking way too long.
Why, I've wondered, do people assume that creativity should happen quickly, smoothly, or with any degree of certainty. When was the last time anyone did anything according to plan?
So, yes, authors must have a thick skin–not easily bothered by the opinions of others–because no one is rolling out the red carpet for us. We have to be the engine behind our work. For that reason alone, read this book, and then read it again. There is a priceless energy exchange between author and reader, and what more could any of us ask for as Heat-Moon pulls back the curtain of success to share the tedious, hesitant, and searching steps that led there. The do-or-die moments that crossed his path as he pursued a book that seemed to slip from his grasp on more than one occasion. We all have something to learn from his journey, writers and readers alike. ~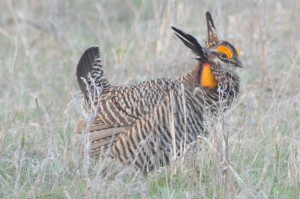 A few years ago an artist from Columbia, Missouri, Paul Jackson, sent me this photograph for my blog. He is extremely generous with his work and willingly shares his many talents with the world. As many of you may know, this is a prairie chicken in its natural habitat, and for some reason, it struck me as a fitting close to this  review. Why? Because every respectable author must effectively grapple with his or her personal habitat to prevail, to survive. From inhospitable to something more supportive, we all have to tough it out or the words will never land on the page. If you're a writer, how have you toughed it out over the years? ~

Blog by SunnyRoomStudio: all rights reserved.